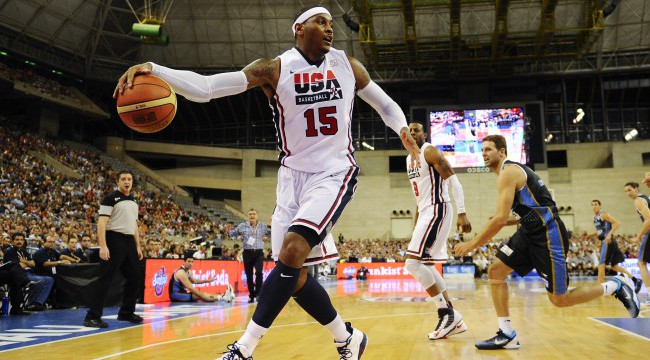 It's been quite some time since we've seen Carmelo Anthony on the basketball court.
The Knicks' All-Star forward sat out the back half of the season because of surgery he had on his left knee. His prognosis stated a four to six-month recovery time, which puts Anthony in position to begin basketball activities soon. However, the Knicks may not be very excited about the basketball activities Melo has decided to partake in. The Team USA mini-camp begins on August 11, and Marc Berman of the New York Post writes that Anthony has expressed his intention to attend.
According to a source, Anthony has informed US Olympic Team officials he will attend the Aug. 11-13 minicamp as the team gears up for the 2016 Summer Games in Rio de Janeiro.
Competition reaches its zenith at the Team USA camps. Some of the best players in the league gather together to prove their worth as a Team USA candidate. Fans may not take international competition as seriously as the NBA, but many players have expressed how much they value representing their country.
Coming off such a serious knee injury, the Knicks' brass should be concerned with Carmelo diving head first into a hyper-competitive mini-camp. He's the face of their franchise, the fulcrum of their offense and holds quite a large space on their cap sheet. However, Melo has the right to compete in whatever international competition he pleases. He may never get another chance to earn a roster spot on an Olympic team. Even though Melo put on a stellar performance during the 2012 Olympics, there's a dearth of young forwards – Paul George and Kawhi Leonard are among them – coming in to replace him.
Furthermore, Team USA isn't going to push Melo into overworking his left knee. They simply want all of their prospective players training together for three days.
Anthony is still rehabbing from February's left-knee surgery, so he will not be a fully active participant, according to a source. Team USA CEO Jerry Colangelo has encouraged roster members to come to the minicamp even if they can't play due to injury.
Knicks fans may cringe at Carmelo's decision, but the use of his body is ultimately his decision. No one should interfere with his desire to be a member of Team USA.
(Via New York Post)