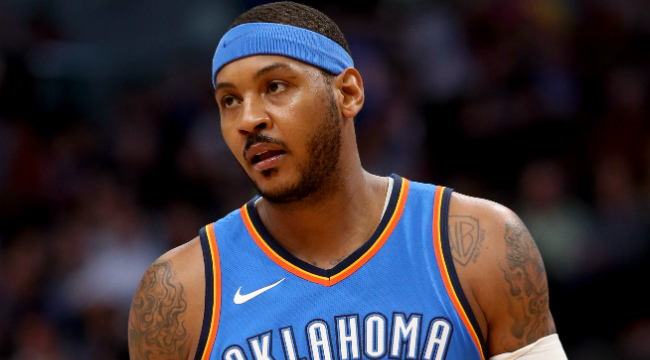 With the exception of an emphatic and impressive dunk from Russell Westbrook that placed Michael Kidd-Gilchrist on a virtual poster, very little went right for the Oklahoma City Thunder on Monday evening. The team allowed 40 points to the Charlotte Hornets in the third quarter, an outburst that placed the home team in a hole that it simply could emerge from on the way to a disappointing 116-103 loss.
Then, after the game concluded, veteran forward Carmelo Anthony was likely frustrated and decided to skip his media obligations while leaving the locker room early.

Of course, it has to be noted that Anthony will not be the last player to navigate away from the media amid challenging times but, in the recent past, his performance has been at a level never before seen over the course of his Hall of Fame career.
No one could have envisioned that, after 26 games, the Thunder would have a sub-.500 record and frustration has to be boiling over at this point. Carmelo Anthony, Russell Westbrook, Paul George and the entire Thunder roster have to be pressing right now, and this probably won't help matters.