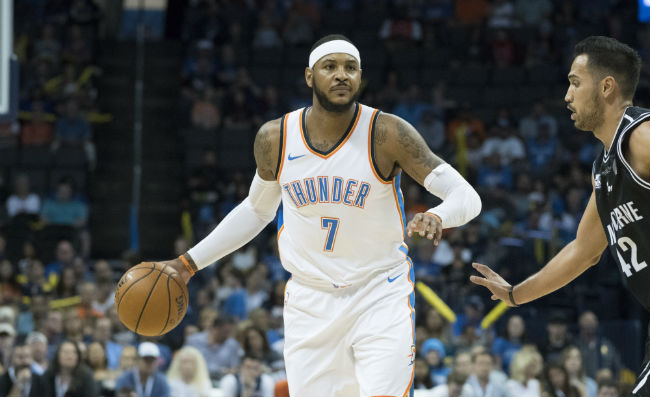 Carmelo Anthony, like most of the Internet, is apparently a big Game of Thrones fan.
NBA players love to dress up for Halloween, but with the season just a few days away it seems that Anthony took a free Saturday as a chance to celebrate the dress-up holiday before things get serious for him.
He took that chance to dress up as the Night King, the zombie-controlling fella beyond the wall that wants to end all humanity and cast Westeros into a darkness from which it may never recover.
If that sounds like the perfect costume for Carmelo, you might just be a New York Knicks fan.
https://www.instagram.com/p/BaQY5GLhVhi/
"Night King," Anthony wrote on Twitter. "Winter Is Coming!!!!"
Both meteorologically correct and true to the show's rhetoric, Anthony seems to be feeling himself here. And it looks like a lot of effort was put forth here to complete the look. This was not something he threw together with a quick run to Target.
If the costume were truly symbolic he'd call himself the Night Oligarch, as Anthony will need to coexist and rule with Russell Westbrook and Paul George in Oklahoma City this season. But that's a bad joke meant to make myself feel better, as Halloween is fast approaching and I have no costume ideas. I don't think the Night King is in the cards for me now that I've seen it pulled off so well.
If only someone caught him telling someone dressed as Jon Snow to "get the fu*k outta here" that would have really tied this whole costume together.