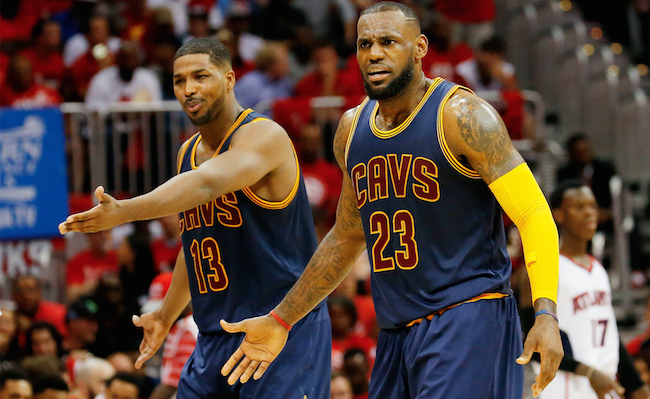 The Golden State Warriors are great because they can win whatever way an individual game dictates. Steph Curry and Klay Thompson will happily run, gun and splash to victory in a shootout, while Draymond Green and Andrew Bogut are just as content to push, bang and mean-mug the Warriors to success in a slog.
Golden State didn't become the first team in history to lead the league in pace and defensive efficiency by accident. This is a squad comfortable playing any style at any time, a reality that poses a major dilemma for the Cleveland Cavaliers in these highly anticipated yet potentially brief NBA Finals.
David Blatt's team has been surprisingly stingy on defense throughout the postseason. The Cavaliers' 98.5 defensive rating ranks third among playoff teams overall, but just .4 points per 100 possessions behind the Chicago Bulls' field-leading mark and .5 points ahead of the Warriors' own stellar number.
It's no coincidence that their defensive surge has come with Kevin Love sidelined and Kyrie Irving in and out of the lineup, either. Tristan Thompson is a fantastic rebounder with the feet to stay in front speedy guards on switches, and Matthew Dellavedova a bulldog whose intensity and commitment never wavers. But the circumstances behind Cleveland's defensive improvement isn't as simple as that plug-and-play analysis makes it seem.
Love's absence has ensured that LeBron James spends more time playing nominal power forward than he ever dreamed before making the decision to return to Northeast Ohio. It's directly that development, however, which has allowed the Cavaliers to thrive utilizing lineups both traditional and modern. And though it comes as a relative shock, specific units featuring a frontcourt of James and Thompson have been nearly as good defensively as those pairing the two of them with 7-foot rim-protector Timofey Mozgov.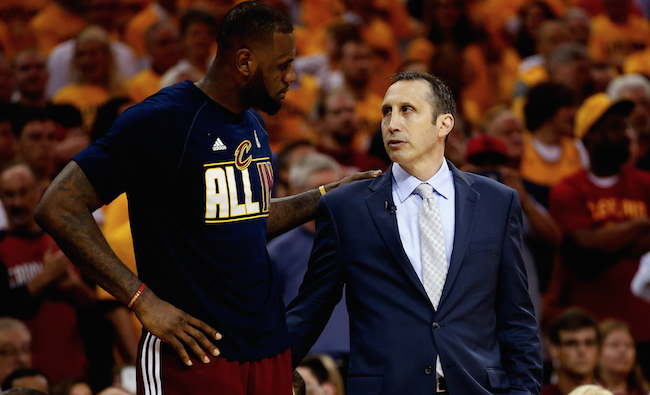 The ability of Cleveland's small-ball lineups to defend effectively looms especially large against Golden State, mostly for their merit on the other end of the floor. Steve Kerr's club wasn't only basketball's best defensive team during the regular season, but is also uniquely equipped to give James fits like no other team in the NBA.
Harrison Barnes, Green, Andre Iguodala, Thompson and Shaun Livingston would all serve as a viable primary defender of the four-time MVP by themselves. It's fair to argue, in fact, that each player could be considered the second-best "stopper" James will face this postseason behind Jimmy Butler. And all of them play for the Warriors.
If James and the Cavaliers' offense struggle as a whole, Blatt will be tempted to rely even more heavily on small-ball lineups that spread the floor with shooters by replacing Mozgov with J.R. Smith. And he should indeed have that itch, too. Golden State is loath to give help in the post, where James should be able to easily batter his way to buckets against every defender he'll meet but Green.
According to nbawowy.com, Cleveland units with James and Thompson in the frontcourt have scored 118.8 points per 100 possessions in 179 minutes since Love was lost in Game 4 of the first-round against the Boston Celtics. Those lineups feast, and only hemorrhage on the other side of the ball – in a tiny sample size, by the way – when one of the defensive-oriented Dellavedova or Iman Shumpert is off the floor.
But the playoffs are a chess game, and the Warriors are better off playing it than the Cavaliers. Won't Blatt going small immediately give Kerr a welcome opportunity to do the same?
Cleveland's not-so-secret offensive rebounding weapon should keep Golden State from playing its beloved super-small lineups – with Barnes and Green at "power forward" and "center," respectively – for anything but a blip.
Thompson grabs teammates' misses better than anyone this side of Andre Drummond, and the sheer size of Mozgov will make it impossible for either Warriors forward to consistently keep him off the glass. One of the biggest advantages those Golden State groups present – run, run, run! – is directly mitigated by the Cavaliers' propensity for offensive rebounding.
The problem for Cleveland: Taking Mozgov off the floor and surrounding LeBron with shooters weakens the team's key strength. Thompson is a monster, but Green will prove a far more difficult obstacle for him to navigate than Paul Millsap did in the Eastern Conference Finals. It stands to reason, then, that the Cavaliers' downsized units won't score with the same proficiency versus the Warriors they have throughout the postseason – even before accounting for all the capable bodies Kerr will throw at James.
And if Thompson can't clean the offensive glass with his usual aplomb, rest assured Golden State will push the tempo. That sounds like a winning proposition for a LeBron-led team, and would normally be the case, too. But not when facing these Warriors. Every player on the floor in Kerr's favorite quintet is fully capable of starting a break, and Cleveland's penchant for lackadaisical transition defense is death with Curry and Thompson ready to snipe from anywhere remotely near the arc.
Despite this Catch-22, there's still one obvious benefit to Blatt playing small. Against the Hawks, Thompson showed just how effective he can be when checking playmakers on the perimeter. The benefits of all-court switching are especially fruitful against sharp-shooting, back-cutting Golden State, as the Houston Rockets made clear on an admittedly fleeting occasion by stretching that bold strategy beyond its limit.
Cleveland won't readily switch screens with the illogical frequency of Houston, but Curry is a far more daunting threat for Thompson to check than Jeff Teague. And as Green exhibited last round, he'll punish smaller defenders on the block if given the chance.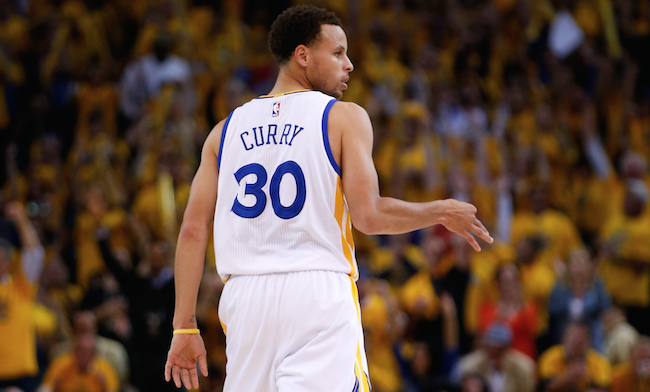 This game within the game encapsulates why the Cavaliers are a clear underdog in their first trip to the Finals since 2007. For every counter they throw or wrinkle they create, the Warriors have an answer. Cleveland's best lineup simply might not be its best against Golden State.
That doesn't mean the Warriors will romp through the Finals, but it still further diminishes the margin for error of the Cavaliers — one that was already plenty slim in the first place.
*Statistical support for this post provided by nba.com/stats unless otherwise noted.