Tony Bennett
No, not the world-famous lounge singer, the slightly less famous basketball player. This year was Bennett's rookie season, and he only saw 11.4 minutes per game — which, admittedly, is pretty good for a second-round pick. Bennett's playing career was short lived due to a foot injury, but he didn't stray from the hardwood. After leaving the Hornets, Bennett signed with the North Harbour Kings in New Zealand. During that time, he actually became a player/coach, and found he was pretty good at the coaching aspect. The coaching bug became a full-on viral infection, as Bennett went on to coach at Washington State and currently, the University of Virginia, where he's heralded as one of the top defensive coaches in the country.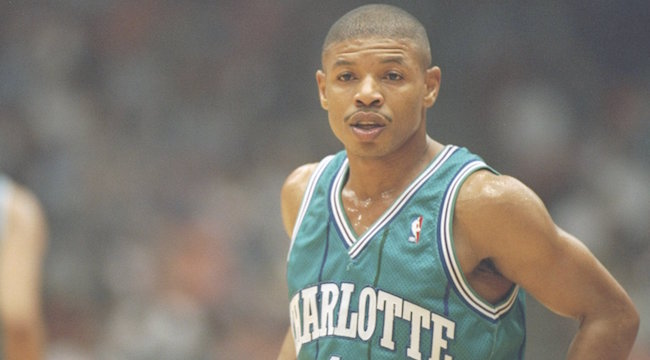 By and large, short players are a kind of novelty act in the NBA. Muggsy Bogues was no novelty act. The 1992-93 season was one of the best of his career. He averaged 10 points, 8.8 assists, 3.7 rebounds (!!) and 2.0 steals per game. He may not have measured up to anyone else on the court, but that didn't pose much of a problem when few players could keep up with him.
Bogues enjoyed an incredibly long career, finally retiring at the age of 36. After retirement, Bogues dabbled in coaching, most notably with the Charlotte Sting of the WNBA (the team folded in January of 2007). When the then-Bobcats were rebranding and bringing back the Hornets name, it was only right that they brought Bogues back into the fold as the team's ambassador.
Before he was only known as Steph's dad, Dell Curry was one of the elite sharpshooters in the NBA. In 1992-93, he was by far the team's best shooter from deep, knocking down 40 percent of his three-pointers. While he didn't start any of the 80 games he played in, his 26.2 minutes per game were the fifth-most on the team. He established himself as one of the elite bench scorers, scoring 15.3 points per game as a sixth man (one year later, he would actually win Sixth Man of the Year).
Even though Curry didn't retire with the Hornets, Charlotte nevertheless became his home. In addition to serving as the team's Special Projects adviser, he's also on the exceptional Fox Sports broadcast with Stephanie Ready and Eric Collins.
Kenny Gattison
After averaging a career-high 12.7 points and 7.1 rebounds per game in 191-91, Gattison's numbers came back down to earth the following year, averaging 6.8 points and 4.7 rebounds per game. Gattison stayed in Charlotte for six seasons, though his averages never reached their peak levels again. Most recently, Gattison was an assistant coach with the Hawks and Suns. However, his two-year contract with the Suns expired last May, and was not renewed.
Kenny also had a restaurant, Gattison's, with a spectacular commercial.
Kendall Gill
Gill erupted in his sophomore season, averaging 20.5 points, 4.2 assists, 5.1 rebounds and nearly two steals per game this season. His averages dipped a bit in 1993, though he was still incredibly effective from almost any spot on the floor on both sides of the ball. This season would also be his last full one with the Hornets, as he was traded to the Seattle SuperSonics the following year. Currently, Gill is a commentator for Comcast SportsNet for Chicago Bulls games, as well as an analyst on NBA TV.