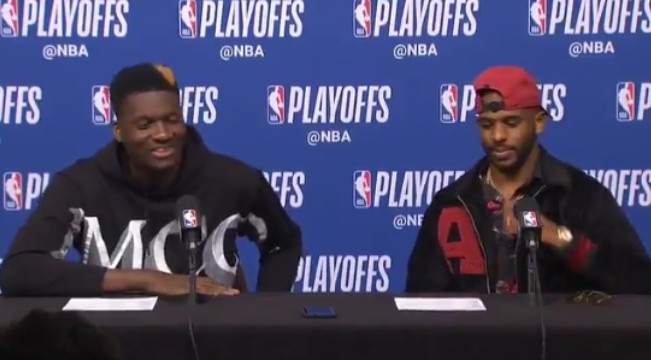 The Rockets advanced to the Western Conference Semifinals on Wednesday night with a 100-93 win over the Jazz in Game 5 of their first-round series, all but assuring a rematch of last year's instant classic conference finals series with the Warriors.
Golden State holds a 3-1 lead over the Clippers and are playing Game 5 now, but it'd be one of the biggest shocks in playoff history if the Clippers managed to comeback and win the series. The Rockets know this, and after the game they were asked about the likely rematch and whether they were excited about the chance to avenge last year's heartbreaking Game 7 loss.
Mike D'Antoni had a funny response as he knew they were getting what they've wished for last year and acknowledged it would be a tough series.
Clint Capela was less bashful about admitting that it is indeed what he wanted, as he sat at the podium with Chris Paul, leading to a pretty hysterical reaction from the veteran guard, who could see his young teammate making headlines in real time.
The quote will undoubtedly make the rounds, even though Capela went on to explain that, simply, they know to be the champs they'll have to beat the champs. Still, as D'Antoni alluded to above, the Rockets will have to be careful of what they wish for and fully ready for the challenge of the Warriors. Paul knows the dangers of posting bulletin board material, but there was nothing he could do to stop it, but as far as juicy quotes go, it's not really that bad.