C.J. McCollum and the Portland Trail Blazers are off to a solid start this season, but a recent skid has dropped them to 15-13 on the year and ninth in the West, a half game behind the Dallas Mavericks and the Sacramento Kings.
Just 5.5 games separate the top team in the conference from the team in 14th, as this season's playoff race appears poised to somehow be even more competitive and crazy than last year. The Blazers know what it takes to fight their way through a competitive West after getting the three-seed a year ago, but after a hot start, a few lengthy road trips have led to them slipping just enough to find themselves on the outside looking in on the postseason.
It's early, though, and to an extent, it just comes down to the Blazers having to play better more consistently, especially on the road. McCollum spoke with Dime recently about the start to the season, everyone adjusting to the new freedom of movement rules, and his partnership with American Express to support the Boys and Girls Clubs. Additionally, as always happens when I'm put in a situation to talk with a fellow fan of Cleveland's NFL team, we had to talk about Baker Mayfield and the red-hot Browns.

Y'all had a hot start to the season in Portland, but cooled off a bit recently. This is a veteran group and a team that was together, for the most part, last year. What's the message in the locker room about weathering the ups and downs of the season, and does it help being with a group that went through it last year together?
It definitely helps having guys you've played with the last few years, going through some of those battles, having disappointing playoff performances together, so that you grow from it, and learn from it, and really test your character out. But I think the overall theme here is that we just got to figure it out, you just figure out a way to win games.
It was a tough one [on Wednesday night against Memphis] where we only score … I don't know, 80 points, and we give up 92 or 93. Great defensive game, but we got to pick it up at the offensive end. It's not getting easier with us playing, I think, seven of the next nine teams we play are playoff teams and the other two games are against the Utah Jazz, who are on the cusp of being in the playoffs as we speak, so it's not getting any easier for us. We just have to figure out ways that teams can be beat and control the controllables.
In the West this year, one through 14 are separated by something like six or seven games. It's somehow more competitive than it was last year when you all had that crazy finish to the season, with 11 teams shooting for those eight spots. The regular season's always a grind, but is there a heightened sense of importance with each game because of how tight it is in the conference in that playoff race already?
Absolutely. Every game is crucial, especially when you're competing for a playoff position, understanding that last year it came down to one, one and a half games separating the third seed from the seven seed. You have to really take advantage of home games. You have to really take advantage of games against sub-.500 teams and try to win as many of those as possible. Because come April, all those games you let slip away, all those losing streaks, those possessions that you let get away from you in the game, can ultimately decide your fate between hosting and having to go on the road or potentially not even making the playoffs.
You mentioned last night was a defensive game, but for a lot of the season, a lot of the talk has been about the scoring being up, the pace being up, referees having a little more emphasis on calling things tighter on the defensive end. Do you feel like now that we're a little past a quarter of the way into the season, teams are settling into that and figuring that out?
I think everybody's adjusting, including the referees, figuring out how to call the game, and we're figuring out how to play with the freedom of movement ruling and some of the new emphasis. It took some adjusting and as we get close to Christmas and the end of the year, I think that you'll continue to see the scores drop a little bit and guys get more comfortable and in game shape, close to playoff shape, as we get close to the All-Star break.
We had you on the pod last year and talked about our beloved Cleveland Browns, but I have to talk to you about some Browns football right now, because they're actually fun this year, which is a new thing.
Exactly.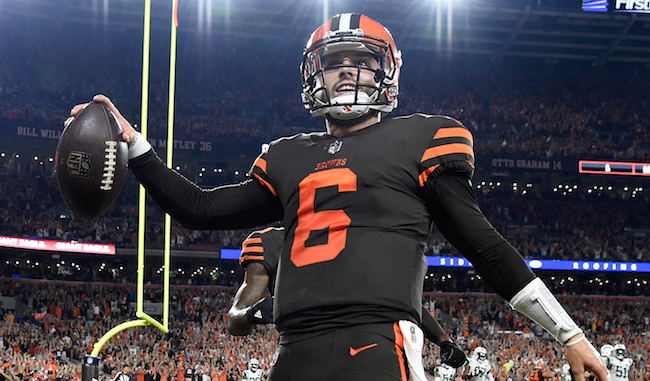 It all starts with Baker Mayfield. What's been your impression this year of the rookie quarterback and do we finally have a quarterback in Cleveland?
I think we do have a quarterback. Look at how he's approached the game. I hear he's replicating some of the stuff you've seen from [Tyrod] Taylor, getting to practices at 5 and 6 a.m., being able to answer questions that players have in regards to playbook schemes, match-ups on opponents and what are the things they're going to see on a nightly basis. I think that he's shown leadership qualities, he's shown moxie, he has poise in the pocket, he can deliver throws on the run, throws on the move.
I'm really, really excited about what I've seen from him so far, 10, 11 starts into his career. Having the offensive coordinator and the head coaching change, you've seen the versatility he displayed, and I can only imagine how good he'll be when he goes through a full training camp with the offensive coordinator, gets to understand the playbook a little bit more, and have some more comfort and familiarity with his linemen and receivers. I think the sky's the limit for him and I think we finally got us one after striking out so many years in the draft. I love [Nick] Chubb as well. I think that he's very helpful for our organization, and Denzel Ward was a steal at four.
Something that's interesting to me is pro athletes as big-time fans of other pro teams, because you know what it takes to be a pro athlete. You know all the things that go into team success that the casual fan doesn't necessarily see. You know more about how chemistry counts and leadership from top to bottom in the organization matters. Have you felt that your perspective as a fan has changed at all over your years as a pro and how you watch the game?
It's definitely changed a little bit because as I've gotten older, I've learned more about the game, obviously. I've played professionally for five years, going into my sixth season now. I have relationships with a lot of the players, so I know how much they love their game. Talking to Jarvis Landry, talking to [Damarious] Randall, some of the different players on the squad, you know how seriously they take this game.
I know they're putting their heart and soul into it, whereas the casual fan, sometimes they take the games harshly and they think that teams are trying to lose on purpose and things of that nature, whereas players are never trying to lose games. I can assure you that. Even when we lose games and you hear the fans talking about, like, "What's going on?" Playing this game, just like look, we're playing as hard as we can. No one wants to lose. This is how we feed our family. This is our livelihood, the game we love. I think that's what's changed the most and playing fantasy football. I'm not as hard on my players as I used to be.

Fantasy basketball is not quite as big as fantasy football, but do people ever get on you about fantasy stuff?
People absolutely get on me. They'll say I'm not shooting enough threes, or I'm not making enough threes, or I need to rebound more. A lot of times, it's just basically wondering how many points I'm going to score tonight, if they should put me in their lineup. When you do play well, you get a lot of positive feedback on Twitter, and if you don't play well, or if you're hurt and you sit out a game, they're mad that you didn't let them know early enough so they could change their roster, their lineup. It's interesting to live in it, but that's what the world's come to.
You're partnered with AmEx and the NBA Store for a little something special through Christmas to benefit the Boys and Girls Club. Can you just explain what that is, how folks can help out, and why the Boys and Girls Club is so important to you?
I'm really excited about the partnership with American Express, and we're spotlighting an organization that's very important to me in the Boys and Girls Club of America. I grew up in Canton, Ohio. I attended the Boys and Girls Club. I spent a lot of time there, and I think it impacted my life and changed the trajectory of some of the things I was doing outside of school. We're really excited about some of the things we're able to accomplish.
We actually did some great work two weeks ago out in Portland and fans can follow the journey and the partnership on Instagram. It actually has some of the content and things that we actually did last weekend.
For those of you that are interested, as part of the partnership, American Express and the NBA, anyone who purchases using their AmEx card at the NBAstore.com this holiday season, before Dec. 25, you get 10 percent off the total spent, and the money will be donated to the Boys and Girls Clubs of America. I'm really looking forward to that. The more money they spend, the more money the Boys and Girls Clubs gets, so get your jersey this Christmas.