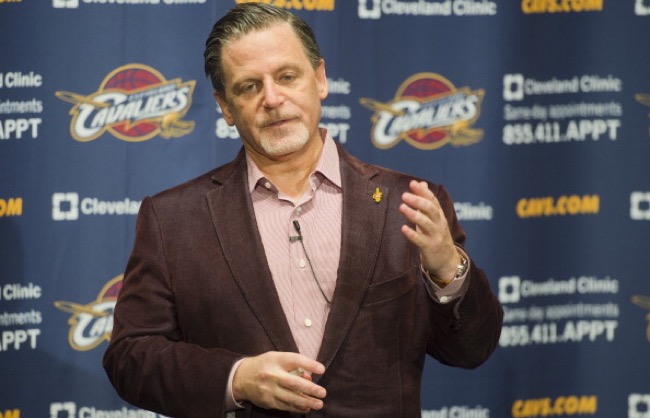 Professional sports franchises moving has become seemingly commonplace in recent years, particularly in the NFL, whether it's the Rams moving from St Louis to Los Angeles, or the Raiders soon to move from Oakland to Las Vegas. As lease agreements end and battles for public money for new stadiums and arenas escalate, franchises tend to follow the cash and sometimes bolt a long-time home for a new one with better benefits.
The Cleveland Cavaliers, a franchise a year removed from a championship, would be a stunning candidate to be the latest NBA team to relocate, but there were murmurs about the possibility this week.. The Cavs had recently announced plans to renovate the Quicken Loans Arena, hoping to attract an NBA All-Star Game. It's a typical process that cities and teams all go through; franchises go to government officials and councils in order to secure public money for add new bells and whistles to arenas with the hopes of securing an All-Star Game and all the business that attracts for the city within the near future.
Unfortunately for the Cavaliers, they were unable to secure the government funding in order to renovate The Q, and, subsequently, Gilbert decided to scrap all renovation projects altogether citing the rising costs of construction due to delays. Afterwards, Fred Nance, the man who was negotiating the renovation deal for Quicken Loans Arena laid an omnious threat in a phone interview in WKYC in Cleveland.
"I think it has put a big question mark on the future of the Cavs in Cleveland," Nance told WKYC by phone on Tuesday. "Because while the deal would have extended [the Cavs] lease and we wouldn't have had to deal with this until 2034, it's not clear what's going to happen in 2027 and owners don't wait until December 30 of the last year of their lease — they start making those plans years ahead of time. We have significantly diminished our ability to keep this team here as a result of this."

That statement caused a bit of a panic in Cleveland. Could the Cavs not only lose LeBron James in the summer of 2018, but also lose the franchise within the decade? It's a terrifying thought for a city that has once lost a beloved franchise when the Browns moved to Baltimore to become the Ravens. On Thursday, Cavs owner Dan Gilbert did his best to squash any rumblings about the Cavs relocating to Seattle or elsewhere with a single, emphatic tweet.
The Cavaliers are leased to the Quicken Loans Arena until 2024, and the lack of public funding for a renovation certainly raises questions about the future, especially in this era of seemingly endless new stadiums and massive renovation projects. However, Gilbert insists Cleveland will remain the Cavs' home for however long he's owning them. Cleveland fans' disdain for Gilbert is well known, but if he were to break this promise, he'd become public enemy number one in Ohio.