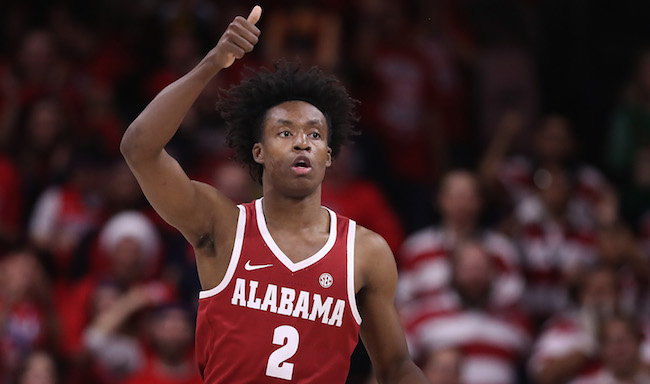 The 2018 NBA Draft isn't expected to be an especially strong one for point guards, but currently, two guys stands out above the rest of the field. One is Oklahoma's Trae Young, a dynamic offensive player who can score in bunches. The other is Alabama point guard Collin Sexton, a potential star who is as dynamic of a college guard as you'll see.
Of the two, Sexton was able to produce some magic on Thursday afternoon. Alabama needed to take down Texas A&M in the second round of the SEC Tournament to keep its postseason hopes alive — according to ESPN's Joe Lunardi, the Crimson Tide are among the first four teams out right now.
But the good news for Alabama is it has Sexton, who is capable of doing some incredible stuff on the floor. One such thing came with the Crimson Tide down 70-69 with less than five seconds left. Needing to go the length of the floor to keep his team's March Madness hopes alive, Sexton managed to do this.

Going the length of the floor in 4.4 seconds and getting a layup is crazy enough, but the fact that Sexton managed to convert a scoop layup off of his wrong foot and over a defender to get the job done is absolutely insane. With the win, the Crimson Tide will move onto face top-seeded Auburn in the SEC Quarterfinals. Taking down their bitter rival will be tough, but having Sexton on the floor will give Avery Johnson's squad a fighting chance.