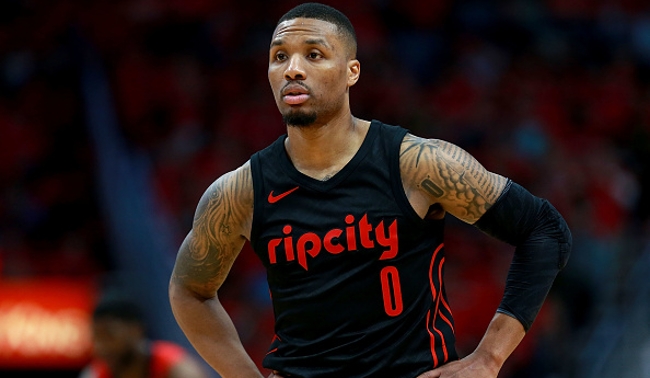 At the end of Game 5 in Portland last week, when Damian Lillard knocked down the biggest shot of his career and one of the biggest shots in NBA history, Lillard remained cool as a cucumber somehow. He managed to muster a little wave goodbye to the newly-vanquished Thunder on their way off the court and maintained a stone-faced expression as his teammates mobbed him and the Moda Center crowed erupted from immensity of the moment.
That shot, as we've now learned, was the product of deliberate training, as he's been practicing those exact shots regularly for years now. But his ability to maintain his poise and his composure amid a tidal wave of pressure in those situations is likewise the result of a different type of training regimen.
Basketball is just as emotionally and psychologically demanding as it is physical. The ability to keep an even keel in the most intense scenarios is its own type of skill, and like any skill, one that must be practiced. That's why he and his trainers, Phil Beckner and Ben Kenyon, have worked diligently with him to hone the mental aspects of his game.
Via Ben Golliver of The Washington Post:
Both coaches have also tried to shape what they call Lillard's "emotional intelligence." Beckner has spent years building Lillard's confidence by "speaking greatness into him" through setbacks, such as multiple all-star snubs and a string of 10 straight postseason losses.

Kenyon has keyed in on Lillard's self-control and leadership, recommending two books by author Ryan Holiday: "Ego is the Enemy" and "The Obstacle is the Way."

"The best of the best stay composed when their team is down 15 points, or they're in foul trouble, or when [Blazers center] Jusuf Nurkic breaks his leg and it feels like the world is ending," Kenyon said. "No matter what, [Lillard] keeps his composure and leads by example."
Lillard, of course, makes it look effortless, but it's clearly anything but. It also runs contrary to the primal screams and demonstrative celebrations so many players enjoy today.
In any case, it's a good reminder to not let the lows get too low, or the highs too high.