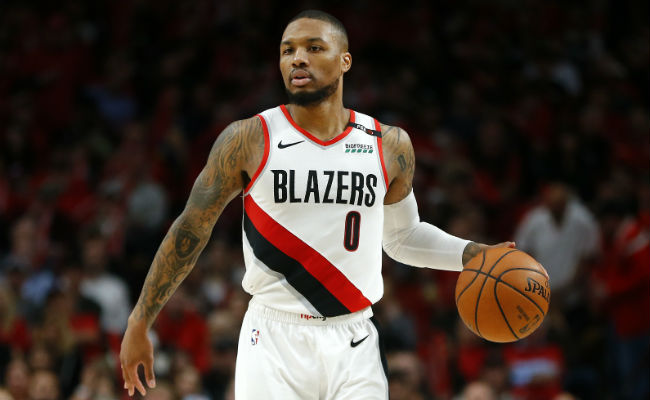 Marvin Bagley learned on Thursday that Damian Lillard works quickly and is very willing to defend his reputation as best rapper in the NBA. Lillard, the guard who goes by the moniker Dame D.O.L.L.A on the mic, has integrated a hip hop career into his time as a pro as well.
It's widely regarded that Dame has bars as well, which is why it was interesting when Marvin Bagley challenged him to a rap battle on live TV. While on First Take, Bagley challenged Lillard to a rap battle. Lillard responded that he wouldn't appear on the show, but that he would be willing to hash it out.
And hours later, right in the middle of the first round of the NBA Draft, Lillard dropped a diss track that was not-so subtly targeting Bagley.
https://twitter.com/Dame_Lillard/status/1141880033398554625
If you missed the link in the tweet, you can listen to it on SoundCloud here. The cover features a photoshopped picture of Bagley, and it appears to be titled "MARVINNNNNN!!!???" so it's hard to say this isn't about Bagley. Lillard called Bagley out for "amateur bars" and accused him of being a fan of his, mentioning that he'd DM'd him about his third album before the second one came out.
"You ain't established in the league for one," Lillard spits in the two-minute song, which was either part of a premeditated beef or materialized in a matter of hours.
Jordan Clarkson seems to have taken a side in the matter as well.
What inevitably must come next is a diss track from Bagley, so we can have a real life NBA player rap feud. Because after the draft and free agency, it's going to be a long basketball-less summer to fill with arbitrary nonsense like this.