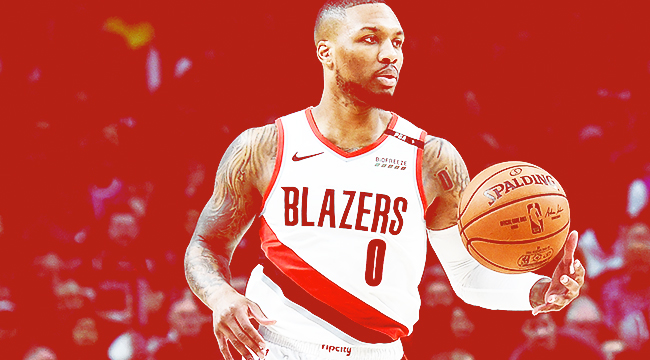 Damian Lillard trots up right side of the floor. He knows a trap is coming, so he tries to do his homework early. Instead of jetting down the sideline, he crosses over to his left hand, giving off the illusion of a drive up the middle. His big man is reading the fake in real time; he flips his screen as Lillard switches back to his right hand. The trap fails, but Lillard gets his pocket picked, anyway.
This is a snapshot of what the 2018 postseason was for Lillard, one of the league's smartest guards against the aggressive New Orleans Pelicans: Knowing what the defense would do, knowing when they'd attack, and being rendered useless, anyway.
Jrue Holiday made life impossible with his chest-to-chest defense. Jusef Nurkic wasn't quite ready to operate as a release valve. C.J. McCollum balled out (25.3 points with a 52/43/77 shooting split), but it didn't matter without Lillard holding up his end of the bargain. Four games, 46 misses, and 16 turnovers later, Lillard was on the couch like the rest of us, only infinitely more embarrassed.
The loss capped off the second straight season that the Portland Trail Blazers overachieved in the regular season, only to be blitzed in the postseason. It was the second time in three postseason berths that Lillard's Blazers were swept; the third time in four appearances that the Blazers were eliminated in five games or less.
It was fair to question the ceiling of the Blazers at that point. The Lillard-McCollum tandem scored in bunches, but neither offered much resistance on the other end. There was no third star to carry the load. Thanks to one of the league's more inflexible cap sheets, there wasn't room to sign that guy. They didn't possess the assets to reasonably trade for that guy, though they did make attempts.

The "easy" solution, at least from the outside, was to blow things up. Breaking up the Lillard-McCollum backcourt has been a topic on NBA Twitter for years. It was mostly centered around McCollum, but the pendulum started to swing towards Lillard. At what point would he get tired of early exits and ask out? How would he look alongside LeBron James in L.A.?
Lillard has never wanted out.
He's spoken on multiple occasions about finishing his career as a Blazer. Of course, plenty of stars say they want to stay in one spot. Paul George said it before eventually informing the Indiana Pacers he wouldn't re-sign there. Kevin Durant expressed his desires to stay in Oklahoma City forever before joining the Warriors. We don't have to rehash LeBron's Decision in 2010.
It feels different for Lillard. It doesn't make him any better for wanting to stick it out in Portland, but there's something to be said about how at peace he is with his decision. All superstars want to win on their own terms. That can manifest itself in a myriad of ways, but Lillard seems content with the prospect of not winning a title if it means finishing what he started in Portland.
But of course, that doesn't mean he isn't trying. Lillard laid the groundwork for a redemption tour all season long, responding to last season's heartbreak with arguably his best season. That doesn't completely shine through statistically. His scoring and efficiency (26.2 points per game, 58.8 true shooting percentage) are down from last season (26.5 PPG, 59.4 TS%). His 4.7 rebounds a nigh are fine, but slightly lower than his career-best 4.9 in 2016-17. His defensive metrics, as flawed as they can be, haven't drastically changed from last season.

Lillard's growth is more evident in the calm with which he plays. He's long had every skill in the tool box to make defenders cry uncle, now the game has slowed down to a crawl for him. If there's any number you can point to for proof, it'd be his assist total. He averaged a career-high 6.9 assists per game this season, slightly higher than his 6.6 APG clip last season. He isn't just racking up dimes, he's racking up the right kind of dimes. Via PBP Stats, Lillard assisted on 341 shots at the rim or from the corners. His previous career high? 269.
That growth has come from studying an absurd amount of film, but Lillard has also made life more difficult for opponents by stretching them thin. He isn't Stephen Curry, but he may be the closest thing to him in terms of deep range bombs. According to Basketball-Reference, only Curry (62) and Trae Young (53) made more threes from 28 feet or further this season than Lillard (44). Much like Curry, he has a way of picking the right times to bust out the flamethrower, maximizing the potential to be wholly demoralizing. The threat of him pulling from 30 has forced defenses to pay him higher, and that extra room has made passing windows bigger.
It's odd to consider this postseason as a coming out party. After all, Lillard's most notable postseason moment came during his first playoff appearance. He quite literally won his team a series with a back-breaking, fading three-pointer against the Houston Rockets. This just feels different. I mean, how else are you supposed to feel when he opens a series with a 32-footer?

Lillard is carving up the Oklahoma City Thunder through two games. He's averaging 29.5 points a night with a 45/47/80 shooting split while also averaging five dimes. He has destroyed virtually every coverage the Thunder have employed against him.
Against "Drop" coverage, Lillard has used the cushion the big (mostly Steven Adams) is giving to waltz into pull-up jimmies. When Adams plays too high, Lillard blows right by him for shots at the hoop.
Switches haven't worked, either. It's a natural response to Portland's 1-3 pick-and-roll or their flare action, but Lillard has proven too difficult to handle for Terrence Ferguson whenever he gets that match-up. What's been even more odd to watch have been the semi-transition looks. Lillard hasn't been shy about taking deep threes, which makes the defense — if you want to call it that — from Russell Westbrook so far even more baffling. Lillard is 6-for-9 on threes from 28 feet or further in the series, and it doesn't feel like anyone but Raymond Felton has tried to contest them. Westbrook surely hasn't.
Lillard has also fared better when faced with two defenders. He's turned the ball over three times against traps or "catch-hedges" through the first two games of this series. For reference, he did so four times in Game 3 against the Pelicans last year. He's done a great job of reading the trap getting the ball out a little earlier than he did last year.

The Blazers have a 2-0 lead on the Thunder as the series shifts to Oklahoma City. Lillard isn't the only reason they're up, but he's been the clear-cut leader on the floor. As easy and understandable as it would be to revel in his play, Lillard has made a point to deflect praise elsewhere. After dropping 30-4-4-3 in Game 1, Lillard called Enes Kanter (20 points, 19 rebounds) the team's MVP. He filled the stat sheet in Game 2 with a 29-4-6-3-2 line, but credited the team's execution, ball movement, and defensive intensity for the success.
He has refused to turn the series into a battle for point guard supremacy between himself and Russ when he had the opportunity to do so, although NBA Twitter is doing the work for him.
Obviously there is still work to be done. The Thunder had a 27-14 home record this season, while the Blazers were a middling road team in terms of record (21-20) and net rating (plus-0.1). This series could look very different if the Thunder get some positive regression from three. But if this result does hold, the Blazers could be looking at a deep playoff run — they would have some favorable match-ups to exploit against the San Antonio Spurs or Denver Nuggets in the conference semis.
For now, it's time to appreciate how special of a player — and leader — that Lillard is. He used last year's failure as fuel to become more dangerous while simultaneously empowering his teammates to be the best version of themselves. That kind of growth and chemistry is why the Blazers look more dangerous than they have in years.