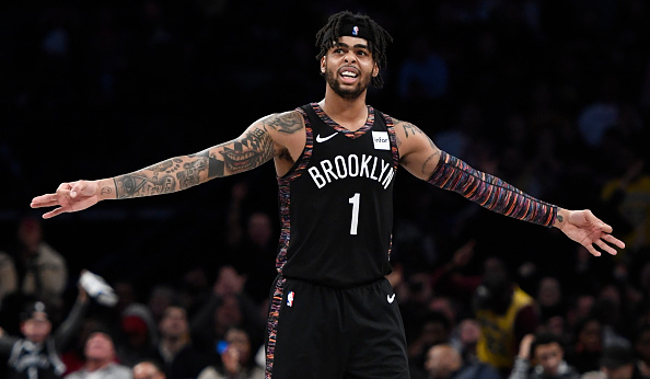 It's been a long and winding road for D'Angelo Russell. The former No. 2 overall pick encountered some hurdles as a member of the Los Angeles Lakers, eventually landing with the Brooklyn Nets in a deal at least partially motivated by salary cap machinations. Everything turned around during the 2018-19 season, though, and Russell timed his breakout perfectly on the precipice of restricted free agency.
But with Brooklyn bringing Kyrie Irving on board as part of a monster opening to the free agency window, Russell's future seemed like it would occur somewhere other than New York. That turned out to be the case, as the Golden State Warriors have reportedly swooped in to acquire the All-Star guard via a sign-and-trade. Shams Charania of The Athletic was the first to report.
Adrian Wojnarowski soon confirmed, saying that Russell will get a four-year max deal worth $117 million.

To make this work financially, Wojnarowski also pointed out that Andre Iguodala's tenure with the team could potentially be in its final days.
The 23-year-old guard averaged 21.1 points and 7.0 assists per game (both career-bests) last season, and Russell also saw an uptick in his efficiency. He buried 37 percent of his 7.8 three-point attempts per game and, in addition, Russell's mid-range shooting took an interesting leap to the elite tier. Whether that is mid-range marksmanship is sustainable is perhaps the biggest question in his evaluation (especially with only 53 percent true shooting), but Russell impressed to the tune of an All-Star selection and a significantly improved overall reputation.
Given his age and production, Russell appears to be a perfect candidate for significant financial investment and, at the very least, he is a big card with the ability to space the floor and function with a high usage rate. Defensively, it is a mixed bag with Russell but young guards that average 20 points per game don't grow on trees and his contract seems to speak to that reality.
Seeing how Russell will fit in with the remainder of the Warriors will be interesting due to how he is at his best with the ball in his hands, but he'll play a crucial role in helping the team keep its NBA Finals streak alive, especially while Klay Thompson is recovering from his torn ACL. But with Kevin Durant leaving town, the Warriors were apparently looking to reload, and may have turned to the team that took Durant for a solution.