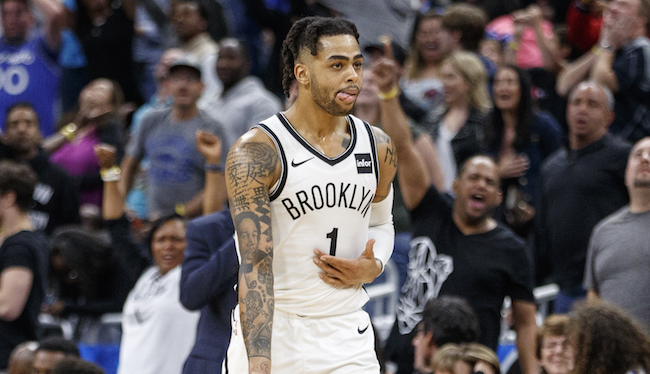 The Nets are solidly in the sixth spot in the Eastern Conference after a 29-point drubbing of the Sacramento Kings on Monday in Brooklyn. In spite of the disastrous trade for Paul Pierce and Kevin Garnett that left them without three first round draft picks, the Nets have managed to cobble together a roster with a number of quality young players.
Part of that is due to savvy asset acquisition from Sean Marks and the front office, but a lot of it is because the player development program in Brooklyn headed up by head coach Kenny Atkinson — one of the assistants that helped the Atlanta Hawks restore a number of careers — is among the best in the league.
Spencer Dinwiddie has become one of the best sixth men in the league, earning himself a three-year extension in the process. Jarrett Allen is steadily getting better in his second season, is a monster on the boards, and seems to make a highlight every night with either a huge dunk or a block. Caris LeVert was an emerging star before dislocating his ankle, but he appears to be another diamond in the rough from the back end of the first round. Joe Harris has become one of the NBA's best three-point shooters after never really looking like much of an NBA player in his first two years in Cleveland.
The most interesting young player on the roster, however, is D'Angelo Russell, the former second overall pick of the Lakers who was sent to Brooklyn in 2017 to help L.A. unload Timofey Mozgov's contract and make way for Lonzo Ball to take over as point guard. After battling a knee injury that forced him to miss half the season last year, Russell has flashed the talent that made him such a coveted draft prospect four years ago.

Russell is having the most efficient season of his career by any metric, with career-best percentages from the field, three-point range, and the free throw line. He's averaging 19.2 points and 6.4 assists per game, and he's been on fire of late, scoring 71 in his last two games and averaging 27 points and seven assists in the Nets' last six games, five of which being wins. It's fair to wonder if this is totally sustainable, but it shows that Russell is tapping into the ability that he's always had, and the fact that it's come in some impressive wins over playoff competition only helps raise his profile.
The reason Russell's improvement this year makes him the most interesting player on the roster is that he is set to become a restricted free agent this summer. The Nets will surely have interest in bringing him back and keeping their current group together, along with making other additions thanks to their copious amounts of cap space this summer. But with Dinwiddie signed for $11 million a year, one has to wonder how high the Nets will go to match.
Outside of Kristaps Porzingis — who it's hard to see going anywhere, regardless of what another team will offer — Russell will probably be the most sought after RFA on the market this summer. The RFA market over the last two years has not exactly been kind to anyone that's not clearly a max player who will be re-signed, but more teams will have space this summer than in the last two. Once the big unrestricted names make their respective decisions, one would expect there to be at least a few teams still out there with significant cap room and on the hunt for impact players.
Among the teams expected to have cap space that would have a need at, or at least desire to upgrade, the point guard position this summer are the Bulls, Bucks (depending on how much Khris Middleton will cost them), Knicks, Suns, Magic, and Jazz (if they don't re-sign Ricky Rubio).
One would think Russell and his agent will look to get at least $20 million annually on his next deal, and if they are to find a four-year deal worth around $80 million, like Zach LaVine a year ago, the Nets will have quite the decision to make. That would require them to commit $30 million a year to Russell and Dinwiddie, while also needing to make decisions on fellow RFA Rondae Hollis-Jefferson and UFA Ed Davis this summer. The Nets will have plenty of cap room, but we don't know what exactly their grand plan is for using that space, especially because there are a number of big-name unrestricted free agents on the market and Brooklyn is uniquely positioned to make runs at those players.
I'd still guess that the odds of them matching most any offer for Russell is higher than them letting him walk, but it's possible that a team makes such a strong offer for him that they will have a legitimately difficult decision. The price tag on Russell will only go higher if he continues to play at this level in the second half of the season, which is a problem the Nets will be happy to deal with.