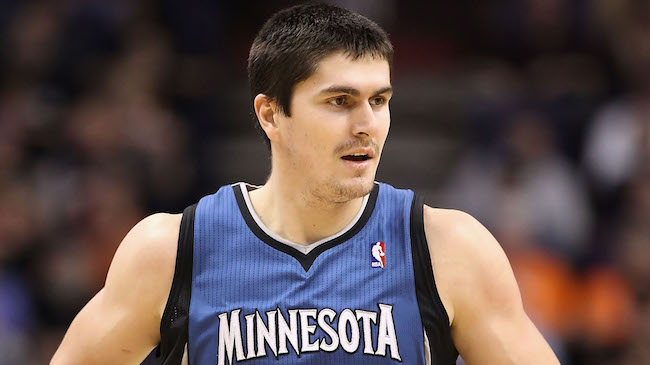 Darko Milicic will forever be known as the biggest bust from the 2003 NBA Draft. The No. 2 overall pick, sandwiched between LeBron James and Carmelo Anthony (with Dwyane Wade and Chris Bosh coming right after), never panned out despite lasting 10 years in the NBA.
Milicic is now a farmer, and says he's finally happy with his life now that his NBA career is over. In a recent interview with Serbian website B92.net (as translated by r/NBA user Tyrone Lue), Milicic went into detail about his NBA career and the inner battles he had with depression and more that derailed his career.
"I'd do a lot of things differently now," Milicic said. "It's true I ended up on a team trying to win a ring, which rarely happens to a No. 2 pick, but in the end we're all looking for excuses. I could say I didn't get a proper chance, but that's simply an excuse; it's up to a young player to prove himself, work hard and wait for his chance. My approach was completely different. As a No. 2 pick coming from Europe, I thought I was sent by God, so I got into fights, got drunk before practices, spiting everyone, but I was spiting myself."
The stories are sad, although at least there's a happy ending now that he's found peace and a life he enjoys back home, but among those stories was one of a conversation he had with then-Timberwolves general manager David Kahn when Minnesota was looking at trading for him in 2010.
According to Milicic, he told Kahn not to trade for him, but Kahn didn't listen to Milicic's warning and sent the Knicks Brian Cardinal for Milicic and some cash.
"I met with David Kahn and told him: 'Don't trade for me for the love of God. I don't want to play in the NBA anymore. I'll ruin your team. I'll f*ck up the team chemistry. Do not trade for me. When it's not working it's not working.'"
Milicic said Kahn asked him to try it out for two weeks before giving up, and that he actually enjoyed his first year in Minnesota before it, like every other NBA stop he made, went off the rails. Timberwolves fans are probably not surprised to find out that Kahn, who is still infamous for his poor decision-making, would make a move like this despite being warned not to by the player himself.
Milicic will always be the answer to a trivia question about the 2003 NBA Draft, but it was clear that he and the NBA were never quite the right fit. It's good to hear him speak so openly about his difficulties in the NBA and also note that he's found peace in his life as a farmer.
(h/t Ball Don't Lie)