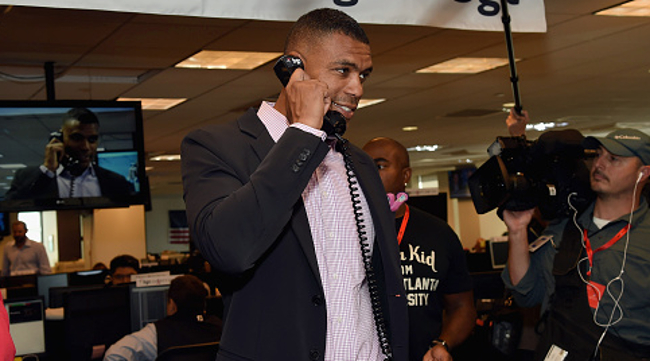 On Sunday, Marc J. Spears of The Undefeated reported that former Cavs GM David Griffin had withdrawn his name from consideration from the job as president and general manager of the Knicks. (Sidebar: while all this was going on, Phil Jackson was sitting in front of a lake somewhere far away tweeting pictures of his toes.)
Details were scarce at the time, with Spears simply alluding to the fact that Griffin's negotiations with the Knicks has reached an impasse, but Ian Begley of ESPN later reported that talks had stalled because the Knicks weren't amenable to Griffin bringing in his own staff.
On Monday, the New York Daily News confirmed that Griffin specifically wanted to get rid of Allan Houston but that enigmatic owner James Dolan's loyalty was an overriding factor. Via Stefan Bondy:
A source told the Daily News that one of Griffin's requests was to remove Houston, who has been with the Knicks as a player or an executive for the majority of the last 20 years. With Dolan's support as one of the owner's all-time favorite players (remember that $100 million contract extension), Houston rapidly ascended in New York's front office and many believe he's being groomed as the next GM under Mills.
Even if it is, in fact, Houston who is next in line for the general manager position, the bottom line is that the Knicks just can't seem to get anything right. Griffin is a proven commodity who has held arguably the most difficult front office job in the league the last few years and was the architect of Cleveland's first championship in more than 50 years.
There will most certainly be other offers for Griffin, and he should probably just breathe a sigh of relief that he no longer faces the prospect of cleaning up the epic mess the Knicks have made of their franchise.