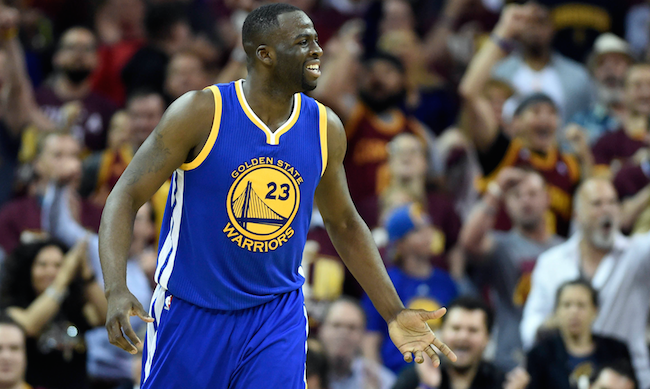 Stephen Curry deserves immense credit.
The Golden State Warriors superstar shrugged off a dismal first half and equally poor start to the third quarter by playing like his MVP self and then some down the stretch of Tuesday's contest. Curry scored a scintillating 22 points on 8-of-11 shooting and 6-of-9 from beyond the arc in the game's final 15 minutes, nearly leading his heavily favored team all the way back from a seemingly insurmountable 20-point deficit.
But it wasn't enough. Doomed by wholly uncharacteristic offensive ineptitude and an obvious lack of composure, the Warriors lost to the Cleveland Cavaliers 96-91 in Game 3 of the NBA Finals.
If Steve Kerr's team climbs out of this 2-1 hole to hoist the Larry O'Brien Trophy next week, Curry's incendiary fourth-quarter performance will have proven a turning point despite Golden State's losing effort. He was splashing and dancing with the flair and confidence of the player an entire subculture has come to love, one who was altogether absent for the majority of Tuesday night and Game 2 just 48 hours earlier.
Curry could be back. But he wouldn't have had the opportunity to play like himself if not for the sudden and surprising impact of David Lee.
Down 72-55 to open the final stanza, Kerr played his final card by inserting a theretofore unseen lineup with the former All-Star as Golden State's nominal center. Playing alongside Curry, Leandro Barbosa, Klay Thompson and Andre Iguodala, Lee co-captained a rally that wasn't quite finished by the time he received a blow from Festus Ezeli with the score at 79-76 and clock reading 5:39 remaining in the game.
The numbers are impressive: 11 points, four rebounds, two assists, and a game-high +17 plus-minus. But Lee's impact loomed far larger than the box score, and presents an interesting wrinkle for Kerr and Cleveland coach David Blatt to consider between now and Thursday's Game 4.
Matthew Dellavedova has received plaudits nationwide for his individual defense on Curry, and rightfully so. The relentless sophomore guard has done a fantastic job staying attached to the sharp-shooter while navigating picks both on and off the ball and fared well in one-on-one situations, too.
Still, the Cavaliers have enjoyed such (relative) success defending Curry not due to Dellavedova alone, but an unceasing commitment to forcing the ball from Golden State's playmaking wizard in spots where he normally does so much damage. The man defending the screener is hedging high, hard and aggressive as Curry uses a pick and Dellavedova – or Iman Shumpert, in some cases – chases frantically behind.
There's nowhere for Curry to go in the shot above and so many others like it through the first three games of the Finals, and he's been content to make the easy pass to a popping big man – one he chose frequently throughout the regular season and playoffs to consistently solid results. But Draymond Green, in many ways the crux of the Warriors' historic two-way dominance in 2014-15, hasn't been the shot-maker or the creator versus Cleveland that he was for the duration of the year.
The Defensive Player of the Year runner-up is shooting 1-of-8 from 3-point range in the Finals and hasn't shown a willingness to continue bombing away in hopes of progressing to the mean or even taking a couple of steps in and launching a mid-range jumper. Worse, Green's become a hesitant passer and finisher in those 4-on-3 situations that normally result in a Cavaliers big man splitting the difference between he and his frontcourt partner under the basket. Cleveland is allowing the Michigan State product every opportunity to be the versatile offensive contributor that makes him so valuable, but Green simply hasn't been up to the task on the game's biggest stage.
It bears mentioning that Blatt and company are giving the Warriors' screen-setters so much room to operate by design. It's tough for a big man to drain wide open jumpers and make plays in tight spaces, and the Cavaliers are forcing Golden State's frontcourt players to do either one by hounding Curry as perimeter help defenders stay closer to kick-out options than seems responsible.
Without confidence in his jumper or his normal big-to-big passing knack, though, Green became so overwhelmed in those potentially fruitful circumstances on Tuesday night as to render them hopeless. Challenging a rim-protector the caliber of Timofey Mozgov is a losing proposition for even the game's best aerial acrobats, let alone a husky forward who lacks explosive athletic ability – especially one with a debilitating back injury.
But there was Green in the second half of Game 3, meeting the hulking 7-footer in the paint on multiple occasions as opposed to taking a jump-shot or finding a teammate.

Like every smart team, Golden State preaches process over results. If Green avoids the frustration that led to him taking on Mozgov in such crucial moments and makes subtle adjustments gleaned from watching tape, he can feast in advantages presented by Cleveland's ultra-aggressive coverage of Curry ball-screens. Rest assured that Kerr and company will tell him to continue shooting 3-pointers, too; confidence is of utmost important to streaky shooters.
But it's also worth wondering if the 25-year-old's back injury has sapped him of the comfort it takes to complete plays he did with relative ease throughout his junior campaign. Even if Green's struggles are more mental than anything else, it's not like the Warriors have time for his trial and error, either – they're down 2-1 in the Finals without home-court advantage.
And that's what makes Lee's success in Game 3 so fascinating. Knowing Green – and Andrew Bogut, Ezeli and Marreese Speights – will endure the same circumstances with which they've struggled in the first three games versus Cleveland, might it be prudent to dust Lee off for the series' remainder? Tuesday night made the answer seem obvious.
The Warriors went to a Curry-Lee high pick-and-roll again and again in the fourth quarter, beginning and sustaining a comeback that seemed impossible as the Cavaliers fed off a raucous Quicken Loans Arena crowd to a major run following halftime. But simple plays can be easily made even in the most dire straits and unfriendliest confines.
Watching Lee pick Cleveland apart on basic rolls to the basket with quick, canny decision-making almost makes it unfathomable to believe a player of Green's ability could fail so often on essentially the same play. But the 10-year veteran has always been far more comfortable than other interior players with the ball in his hands at that awkward space between the arc and dotted half circle.
Lee, remember, was a Third-Team All-NBA honoree just two seasons ago, and plays like these were the biggest reason why.

Even when his shot or pass didn't lead directly to a score, the Florida product's fingerprints were all over his team's rally. After the Cavaliers' normal coverage on Curry ball-screens proved ill-equipped on several possessions in the opening minutes of the fourth quarter, Blatt instructed Thompson – not coincidentally substituted for Mozgov – to switch onto the MVP and prevent Lee from those unencumbered rolls and catches.
But there are reasons Cleveland wasn't employing that strategy in the first place: a residual lack of capable rebounders in the paint and Curry's penchant for roasting comparatively slow-footed bigs.
The playoffs, and Finals especially, are a chess match. Every unexpected move a team suddenly implements presents an opportunity for its opposition to take advantage; Lee's insertion as a rotational piece would be no different for the Warriors and Cavaliers.
LeBron James' eyes lit up when the defense-averse forward manned the middle for Golden State. It's safe to say Blatt will put him in as many pick-and-rolls on Cleveland's end as Kerr does Golden State's whenever he's in the game going forward. Considering the Warriors' shocking lack of offensive punch thus far, though, might the first-year coach consider that a worthy tradeoff?
Only time will tell. In a series as tightly contested as this one, though, any seemingly simple adjustment could help decide a winner. And whether that change comes in the form of Green's improvement or Lee's presence, the Warriors just need to make it during Thursday's Game 4.
*Full disclosure: Lee was flanked by four smalls and being checked by Cleveland's five-man for the chosen clips, and Green enjoyed success in the same situation late in Game 1. 
(Via nba.com)