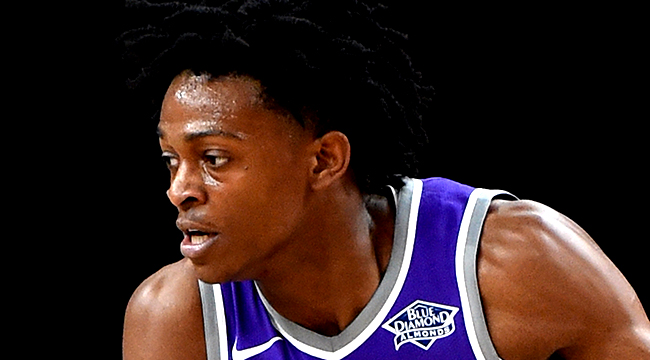 If the Sacramento Kings are going to break their 12-year playoff drought sometime soon, odds are it will happen in large part because of the play of De'Aaron Fox. Over the course of his rookie season, Fox appeared in 73 games, averaging 11.6 points, a team-high 4.4 assists, 2.8 rebounds, and one steal a night. There's room to improve, but in his first act, Fox showed that he has the potential to be the type of game-changing point guard worthy of going in the top-5 of an NBA Draft.
Before that, Fox is exploring another one of his passions: Dragon Ball Z. Fox is a lifelong fan of the show, and on Tuesday afternoon, he'll face off against NFL legend Terrell Owens in a game of Dragon Ball FighterZ during an E3 event. You can find more information on the event here.
Fox sat down prior to the event with Dime to discuss his love of Dragon Ball Z, his rookie campaign in the NBA, and what he wants to work on heading into his sophomore season.
Dime: So when did the love of Dragon Ball Z start?
De'Aaron Fox: I don't really know, my brother was into it. So, I kind of got into it at a younger age, I don't know the exact age.
Was it watching the TV show, or was it one of those things where you read all the books, watched all the other TV spin-offs and movies, playing the video games?
It was definitely just watching the show first off.
Why would you say you're such a big fan? What is it about it that appeals to you so much?
Just the character development. It was kind of different from anything I had watched before.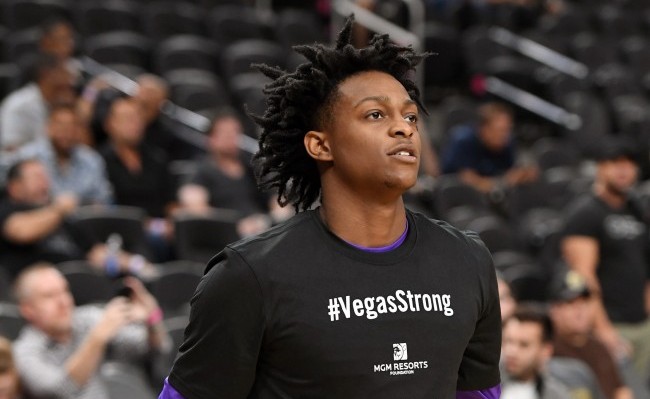 What things did you watch kind of outside of this that it was so different then?
At that time, it was just a lot of cartoons, so not too many fighting things or anime like that.
Did that open some doors into you watching some other anime, or are you a DBZ guy through and through?
Oh, no, I'm just a DBZ guy.
What's this I hear about you and Terrell Owens gaming against one another at E3?
We'll be playing Dragon Ball Fire Z.
And you have a bit of experience playing that, correct? What do you think of the game?
It's a great game. It's kind of like a Street Fighter-type game, it's been good since I've been playing it. I was never into Street Fighter or anything like that, but that kind of concept, that type of gameplay has been cool for the new Dragon Ball game.
Is this the kind of gaming that you like to do, or is this and then you play basketball games and Madden and stuff like that?
I'm more so into stuff that I can't do in real life so, I kind of stay away from the sports games.
What do you like to play outside of this?
I'm big on Call of Duty, that's what I play for the most part.
I know you went to high school in Texas event though born in New Orleans so were you a T.O., Cowboys fan coming up?
My dad's a Cowboys fan, but I was never Cowboys fan. I don't have NFL team, I kind of just follow players.
Was T.O. one of those guys?
Yeah, I like T.O., Keyshawn Johnson, a lot of different guys.
How cool is it to kind of get the chance to go up against him and have that little competitive back and forth with someone that you watched as you were a kid?
I honestly, it's gonna be cool playing against him he just got inducted to the Hall of Fame so it'll be a great experience.

You were at the center of attention earlier this year because someone made a video that had you yelling Kameha as you were hitting a three. What went through your head when you saw that, because I know you're a Vegeta guy.
It was funny when I first saw it, but, I was just like "Man, I didn't say it." People didn't believe me but it is what it is. It was cool and people said I started saying it.
So, have you repped Vegeta at all while you're in the league. Are you screaming, "Final Flash!" Before you knock down, jump, or dunk, or anything like that?
Nah, it's not going through my head when I'm playing.
I believe I have seen that you have some Dragon Ball Z kicks, what are those?
When I was kind of going through the process of going through a shoe brand, with a shoe company, it was kind of something that they knew I was into and they did a design off of Dragon Ball Z.
What all was on that?
It just kind of looks like the shoe is going Super Saiyan, like the aura, the kind of yellowish aura that's around a Super Saiyan is kind of the design on the shoe.
So, a few quick basketball questions, what was the biggest thing that kind of surprised you during your first year in the league?
Just how tired you get from all the traveling. That's probably one of the biggest things.
Were there any trips you remembered that really just took a lot out of you whether it's going cross country, three games in four nights, anything like that?
We had five games in seven nights, and four of them were on the road, but also we had a 13-day road trip once and that was like six games.
I imagine that, before you get into the league, you're like, "Okay cool, I'm going to get to see some places," but by the time that third or fourth game is over, you're like, "I wanna get to bed at 8 p.m. and relax."
Yeah, definitely, it's a tough thing to do and not many people really can understand or comprehend how much the traveling can take out of you.
The Kings are a team that are in the middle of the youth movement and you're one of the faces of that. How exciting is it to be a part of a team that really wants to be a force in the future and to be at the center of things?
It's a great feeling, but at the end of the day you just have to work through this. A lot of teams go through this type of process and we're in the middle of it right now so it's just trying to get guys together and just working and ultimately we just have to get better on our own.
I do want to ask about being teammates with a pair of legends. Could you give me one story for each dude that sums up what it's like being teammates with Zach Randolph and Vince Carter?
I don't really have any stories like that, but it's just [Carter's] work ethic. He's always first guy, even at his age, he still goes hard. Takes care of himself, always on the training table. He just takes care of his body. And Z-Bo, as old as he is, he still led us in scoring this year. It's just the way he plays, the way he puts the ball in the basket without having his game really age in this league.
What's the biggest individual part of your game you plan to working on this summer to make sure next year it's taking a step forward and not going through any kind of a sophomore slump?
Just becoming a better shooter, a better playmaker and just being more efficient on the floor as far as defensively and offensively. Just be someone that can really really dominate every night.