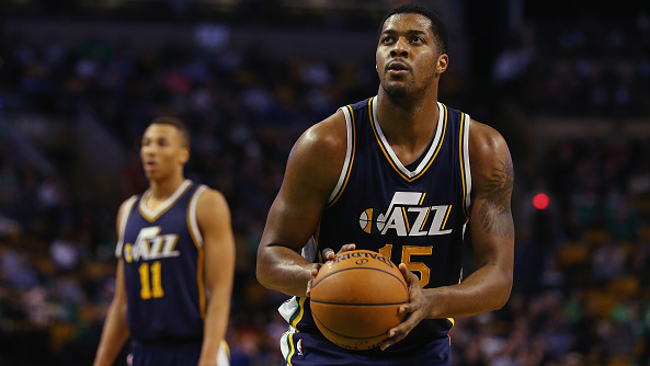 Since Deron Williams was traded to the then New Jersey Nets back in 2011, his career has been in a rather bizarre downward spiral. He was inarguably one of the top five point guards in the league at the time, but both his production and his stature around the NBA have been on a steady decline, so much so that Brooklyn finally severed ties with him this summer.
The opposite has been true for the man Williams was traded for back then. Jazz forward Derrick Favors has improved consistently since his rookie season and is one of the best bargains in the league. In 2013, he signed a four-year, $49 million contract, and just this past season he posted a career-high 16 ppg to go along with 8.2 boards and 1.7 blocks.
Next up on his agenda? Being named to the All-Star team. Via Stefan Bondy of The Daily News:
"It's a personal goal for me to be an All-Star. And I think right now, I've been put in a position to hopefully make it with a good team, a good coach, an organization and a front office that's pushing for it," Favors said. "So I think I have a good chance to make it. But it all depends on me – how I play this year, how bad do I want it."
After being snubbed from the Team USA minicamp in Las Vegas earlier this summer, Favors should have plenty of incentive to keep improving. Add all of this to the fact that his Utah Jazz are shaping up to be a pretty good young team with a core consisting of himself, Gordon Hayward and Rudy Gobert, who emerged as one of the league's best defenders last season. If they continue their upward trajectory, Favors should add a playoff berth to his list of goals sooner rather than later.
(Via The Daily News)