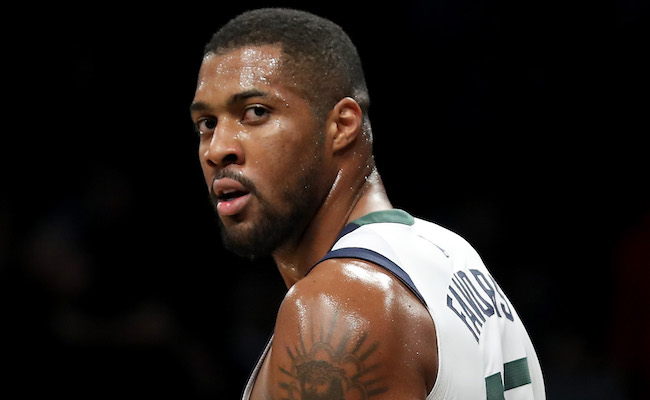 For multiple years, the Utah Jazz have been blessed with a strange "problem" in that two of the team's best players are likely better suited for full-time play at center in today's NBA. Rudy Gobert has developed into an annual Defensive Player of the Year candidate and the team's anchor in the middle. But in addition, Derrick Favors is a tremendous (and undervalued) player that can also operate at the power forward spot, even as an oversized option when compared to most of his counterparts around the league.
Favors entered unrestricted free agency on July 1 but, as it turns out, he didn't go far. On Monday, Favors agreed to return to the Utah Jazz. Tony Jones of the Salt Lake Tribune first reported the news, which was quickly verified by Marc J. Spears of ESPN's The Undefeated.

Favors, who will turn 27 years old on July 15, put together a solid season for the Jazz in 2017-2018, averaging 12.3 points and 7.2 rebounds per game in 77 appearances. He'll be a member of the Jazz for the next two seasons, although his second year is not fully guaranteed.
The former No. 3 overall pick also boasted great efficiency (56.3 percent shooting) and, while he is not an overwhelming defensive presence, Favors presents a combination of mobility and rim protection that would valuable in virtually any scheme around the league.
Staying in Utah means Favors returns to a team that made the Western Conference semifinals and has a young star in Donovan Mitchell, who was the runner up in Rookie of the Year voting to Ben Simmons. With the arms race in the Western Conference getting more loaded this summer with LeBron James joining the Lakers, clearly Favors and the Jazz feel they can compete in the crowded conference.