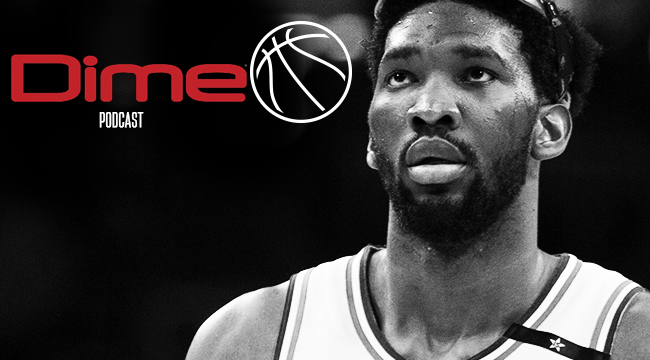 Hello, friends. Welcome to the latest edition of the Dime Podcast, in which we try out very best to break down the single most ridiculous story in the NBA this season. As always, we invite you to subscribe to the podcast on your podcast listening platform of your choosing (Omny, iTunes, Google, Stitcher) and leave us a review.
Today, Martin and Robby are joined by our pal Michael Levin (@Michael_Levin), the perfect person to discuss the ongoing saga centered around Sixers GM Bryan Colangelo and five burner Twitter accounts. You can get a full rundown after the jump, but before that, make sure you give Mike a follow on Twitter, check out his podcast (Rights to Ricky Sanchez, which you can follow on Twitter here and listen to here), and stay in the loop regarding the second season of his TV show, Trial & Error, which airs July 19 on NBC. Oh, and check out the piece he wrote for us about The Process at the beginning of the postseason.
Here's a rundown of some of the things you can expect on this edition of the pod.
Mike tells us how he learned about the Colangelo controversy
Appreciating the sleuthing done by Sixers Twitter
An analysis of how absolutely insane this situation is
This thing has levels, all of them weird
How exhausting getting tips on Twitter must be
The craziness that is someone piecing this all together
The word "butt" got censored, which might be the weirdest part of this
Is Colangelo safe even if his wife is behind these Twitter accounts?
The awful timing of all this happening
IMPORTANT ASIDE: We do not endorse homewrecking
Who replaces Colangelo should he get bounced?
This story goes deeper than Twitter accounts, somehow making it weirder
How cool it would have been if How I Met Your Mother was around during this Cavs' run
Looking forward to the offseason in Philadelphia, beyond the Colangelo drama
Who does Mike want the Sixers to draft at No. 10?
Defining a successful offseason in Philadelphia
All that and much, much more on today's edition of The Dime Podcast.