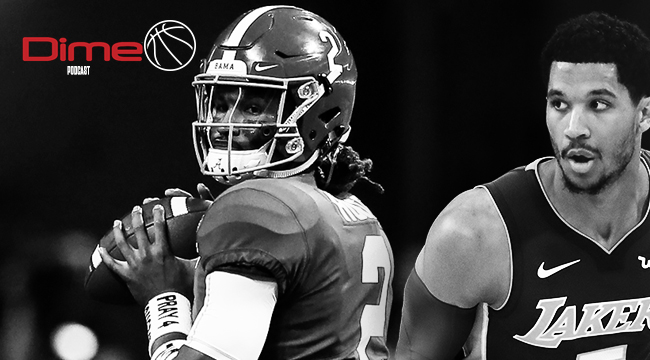 Hello, friends, and welcome back to the Dime Pod. This week's edition of the Dime Pod (subscribe: Omny, iTunes, Google, Stitcher) spends some time talking about the NBA, college football, and most importantly, sandwiches. Martin and Robby are joined by our pal Joel Anderson of ESPN, who you should follow on Twitter over at @byjoelanderson.
Here's today's episode of the podcast, with everything what you can expect to hear after the jump.


Here's a full overview of what the gang discusses this week:
Martin and Robby cannot wait to watch The Meg
What if Jayson Tatum replaced Jason Statham in all of his movies?
Joel Anderson, who is very fast, hops on the line
LeBron in a Lakers uniform looks weird and will continue to look weird for a while
The potentially weird dynamic of LeBron and the Lakers' young trash talkers
Over/under talk for the Lakers, Warriors, and more!
Rookie talk, including how much Deandre Ayton thinks about everything
The Golden State Warriors, the Alabama Crimson Tide, and why you shouldn't build like them
College football talk! Players (ex: Jalen Hurts) should make decisions that are best for them
Alabama's quarterback situation is incredibly weird
What college football coach is Magic Johnson most like?
SANDWICH POWER RANKINGS
And much, much more!