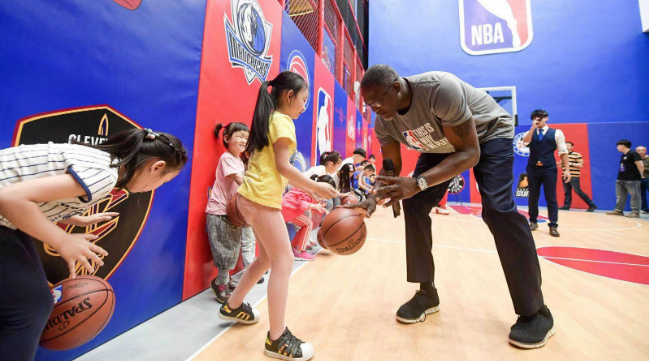 While the NBA playoffs are going on stateside, Dominique Wilkins is busy on the other side of the world. The Human Highlight Film visited China for a few days to check out a trio of league initiatives: The opening of the world's first NBA lifestyle complex in Tianjin called the NBA Center, the world's second basketball-themed family entertainment center called NBA Playzone, and to attend the finals of the regional final of the Jr. NBA World Championship.
Wilkins was on his way to watch the final thing on his agenda — the game to decide which group of kids will represent China at the Jr. NBA World Championship in Orlando this summer — when he sat down with Dime to discuss his trip, the NBA's efforts to grow in China, and the 2018 postseason.
Dime: What are you doing over in China?
Dominique Wilkins: We've been to the grand opening, to the fun zone here at NBA Center here, that is just absolutely beautiful. Beautiful facility, that's one-of-a-kind in the world. Did the ribbon cutting at both facilities and it was just a wonderful experience with the people here. Being in China, I come to China all the time, and I'm always amazed about the growth of basketball in this part of the world.
What have you gotten to check out while you've been over there? Both on your official NBA duties and then just someone who's from another country getting to go walk around and check things out over in China?
To me, it is great. Shopping is great, always great over here. The food, the people treat you … they're so warm. Such a warm feeling here. It's just amazing how you're treated when you come here.
What stood out when you were checking out the NBA Center for the first time?
How big it was. The place is amazing. It's right in the middle of the neighborhood and normal people would get a chance to enjoy basketball at such a nice facility. It's amazing.
And you also went to see the NBA Playzone, correct?
Right, I did.
What stood out there?
The thing that was amazing about that is that people can shop and kids can play at the same time. It's right in a mall, and I think it's really nice how they have put that whole structure together. They made it a safe haven for the kids as well.
What exactly are you doing over there with the Jr. NBA World Championship regional finals?
We are actually on the way there now, we're going to check out the games. Show our appreciation and see how basketball continues to develop in this part of the world, so I'm looking forward to seeing the game.

How important are things like the NBA Center, the Playzone, and the Jr. NBA World Championships to the growth of basketball in China, and do you think there's anything we in the States can take and apply from facilities and events like this?
It shows you how much the NBA has done abroad. When you see the facilities like you see here, kids hope that they can play on an NBA level one day. This makes, or helps make, their dreams come true by giving them a facility to grow their game.
I can't tell you how big this is over here in China to have a facility like this. This is one-of-a-kind in the world. And so again, it just builds a safe haven for these kids and a teaching tool and facility to give back to those communities. This is, I think, the start of something new and innovative that's gonna really explode as they grow it.
From what you've seen both on this trip and on part trips you've made to China, are there similarities and differences between the way the game is played and taught over in China compared to how it's played and taught stateside?
Well, you know what, you're going to have your differences on ways people teach, and that's okay. As long as you get to the same goal. But I think what they've done here is given them the right tools to grow the game and teach the game. But the game is taught from a fundamental standpoint, and fundamentals are fundamentals and not too many things you can do differently to change that. So again, the NBA, all the credit on how they've gone to other countries and really illustrates how the game should be played.
How important do you think it is that the NBA continues to place an emphasis on growing basketball in China, and why do you think that?
It's great because this is a big, big market for basketball. It's huge here. I mean, China, you got so many people, and so many people who are interested in basketball. And I think it is important because it shows you how, every year, the NBA continues to expand the game. What better place to do that than China?
I'd be remiss if I didn't ask you a few NBA questions. What's been your favorite of this postseason that you've got to catch so far?
I think the teams that wasn't being mentioned early in the year, who now in the playoffs. Look at Philadelphia, nobody thought that they would be in the playoffs this year. You look at Indiana, taking Cleveland to seven games, they had a chance to win that series. I mean, teams like that, nobody even talked about early on, and look at them, these teams are right in the thick of things.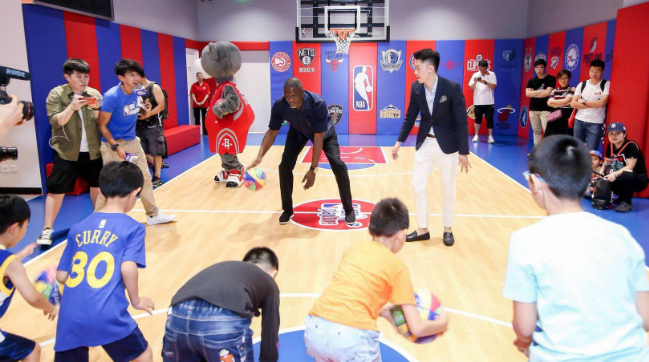 Is there one team that's surprised you with how they've played so far and why is that?
I think for me, the biggest team for the way they played has been the Utah Jazz. Especially out West, there's a lot of good teams out there, and for that team to be where they are right now, no one expected that, because they were a team that was building, and they've lost some players, they lost [Gordon] Hayward, they had injuries, and to see where they were at the beginning of the season to see where they're at now, it's pretty amazing.
So, I know you're not a big predictions guy, so do you think this Houston team is built to take down Golden State if they're both able to advance to the conference finals?
The Houston Rockets, they won 65 games in the regular season, so they're a team to be reckoned with, but the playoffs are a different story. You can't make a lot of mistakes. You don't get too many chances. But I think they're a team that's gonna make noise, and they are making noise. And so they're a team who can win it.
Everything is being framed as, you have to beat the Warriors. They're the team to beat. So how does a team beat this Golden State team?
I think a lot of people fall into is trying to play the way they play. You gotta play your style of game. You can't play, you come down and take threes the way they do because they have shooters. But you gotta slow them down and not get in an up and down game where they can come down and spot up in the corners or the top and shoot threes.
You gotta make them play your game as well, and I think a lot of teams get caught up in trying to play the way they play. You can't play the way they play. I mean, they have different make up. At the same time, if you play your game, and I think slow the tempo down at times, you give yourself a chance to beat that team.
In the East, Cleveland was in a pretty serious battle with the Pacers.
Very serious, and that could take a lot out of you going into the next series.
Do you think Indiana was just a bad match-up for them?
I do think that because certain teams can be a bad matchup for you. Hey, this might be a better matchup with Toronto, but Toronto is another team in the East that is trying to come out of there. So you're going to have to be on your A-game to beat Toronto.
Cleveland, that might have been a bad matchup for them, the makeup of that team, but they survived it. LeBron had some monster games in that series.
The Sixers and Celtics are two teams that are being led by young guys right now, other than the Al Horfords and J.J. Redicks. As someone who consumes basketball, someone who loves basketball, how much fun is it knowing that we're getting a taste of a potential Eastern Conference Final matchup for years to come with how these teams are built around young guys?
It's how you build that young talent. It took Philly a long time, longer than you want to build a team, but now, but they're here. And so, they're a young team, they're a young team, that if you keep that young team together, keep them around, they're going to be a special team, no question, Boston too. But any team that goes through a rebuilding process and that's what we're going through now in Atlanta. We're rebuilding and developing our young players, and so our goal is to be that team that can compete in the East and come out of the East in the very near future. But Philly now, they're that team that's there now.