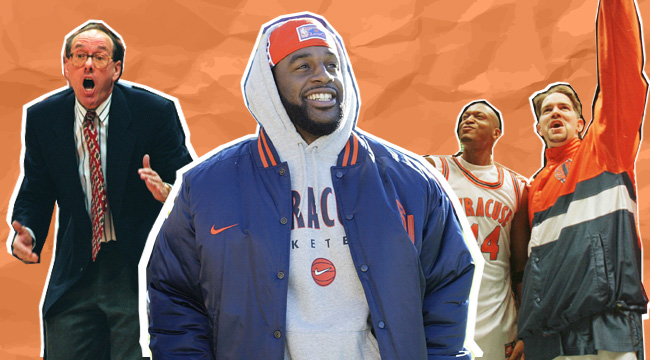 Syracuse has had one of the most memorable runs of the 2016 NCAA Tournament. As a 10-seed that some thought shouldn't have been in the field at all, they beat Dayton, Middle Tennessee State, Gonzaga, and Virginia to punch their ticket to Houston. Back in 1996, Jim Boeheim's team had another incredible Final Four run, winning thrilling games against Montana State, Drexel, Georgia, and Kansas. They toppled future NBA players and Cinderellas on the way to a National Championship appearance, where they ultimately lost to a stacked Kentucky team featuring Tony Delk, Derek Anderson, Ron Mercer, and Antoine Walker.
That run never would have happened if Jason Cipolla's jumper in the Sweet Sixteen against Georgia to send the game to overtime hadn't gone down.
Not that one of his teammates was all that concerned. On the bench, just feet away from where Cipolla took his shot, a Syracuse walk-on knew it was good the second it left Cipolla's hands. Normally that wouldn't be all that special. There are walk-ons who play for every team. Except that this walk-on was the school's starting quarterback, and would eventually be a six-time NFL Pro Bowler and have his number retired by the Philadelphia Eagles.
"I was on the bench and I could just see it because I've seen it before," Donovan McNabb says. "As soon as it left his hands, I was the first one to jump because I knew it was going in."
McNabb would have another chance to jump in that game a few minutes later, as John Wallace hit a game-winning three pointer in the extra period to give Syracuse an Elite Eight matchup against a stacked Kansas squad featuring Raef LaFrentz, Scot Pollard, Jacque Vaughn, and Paul Pierce.
The future NFL star was a card carrying member of the Bench Crew, and while his job on the football field was to lead by example, his role on the hardwood was a lot different. McNabb kept things light, and would often act as the opponent's best player in practice. Sometimes that meant pretending to be Villanova's Kerry Kittles, other times he'd be Ray Allen from UConn, or even Georgetown's Allen Iverson.
"It gave me free will to shoot from every and anywhere," McNabb says. "I was coming off screens, creating shots, getting other guys involved. I gave them the look I needed. And when we got into the game, we were well prepared."
This year saw the rise of the benchwarming heroes, with Monmouth's walk-ons leading the way. Syracuse's Bench Crew in the 1995-96 season were doing a lot of those same things. They got incredibly close, as most walk-ons do. They formed habits, and quirks, including tapping their feet twice and crossing their legs whenever Syracuse shot free throws. And they offered help, sharing what they saw with the starters during timeouts, calling out screens, and consistently bringing energy.
As a whole, this Syracuse team bonded about as well as any. They were constantly joking around, they hung out off the court, often going to dinner together, and they were well balanced, with the do-it-all Wallace leading the way, along with Todd Burgan, Otis Hill, point guard Lazarus Sims, and Cipolla.
That led to the magical run by the No. 4-seeded Orangemen, who Boeheim considers one of the most rewarding groups he's ever coached.
"I don't know how many times this happens, but that team maximized what they could do," Boeheim told Syracuse.com's Chris Carlson back in February. "They got everything done you could ask to get done. It was a really unexpected Final Four, but we had a great point guard, and a great scorer, and really good complimentary players. We had all the parts that we needed. It just fit."
And a quarterback was along for the ride. McNabb was no slouch as a basketball player. He was a versatile sixth man for Mt. Carmel (Chicago) High School coach Mike Curta, and he joined the Syracuse basketball team after playing in the Gator Bowl against Clemson. He even logged eight minutes in that Sweet Sixteen game against Georgia. The next year, his last as a competitive basketball player, he put up 10 points in a win over Georgetown.
But it was that run to the NCAA Championship, and a game against his former high school teammate Antoine Walker, that he remembers most. It started with a visit from a Syracuse great.
Derrick Coleman, who was playing with the Philadelphia 76ers at the time, visited the locker room prior to the Final Four game against Mississippi State. The former No. 1 overall pick was a member of the 1986-87 team that lost to Indiana on Keith Smart's game-winning shot in the title game, and he won Rookie of the Year in 1991.
"He's a legend at Syracuse," McNabb says. "I remember him coming back and sharing words with us. He told us about his experience in 1987, getting to the National Championship, and losing to Indiana on that last shot. His message was basically just seize the moment. 'This opportunity doesn't come every day. Just because you make it this year doesn't mean you'll make it every year. Take advantage of these opportunities that are there.' After we left talking with Derrick, we all felt like we were on a high. We felt like we were three levels higher mentally, just going out and playing."
After beating the Bulldogs, 77-69, the Orangemen had their hands full against a stacked Kentucky team that boasted, aside from Walker, Delk, Anderson, Mercer, Nazr Mohammed, and Mark Pope. The Wildcats (and former Boeheim assistant Rick Pitino) cut down the nets in New Jersey.
Walker was eventually onto the pros, although McNabb knew that was coming thanks to a conversation they had while they were both in East Rutherford. Walker told McNabb he was leaving after the game, win or lose, and McNabb was confused because Walker was somewhat hidden with all the other talented players on Kentucky. But Walker had heard he was going to be a lottery pick, and McNabb was convinced. (Walker would be selected sixth overall by the Boston Celtics in that summer's NBA Draft.)
'Cuse didn't leave with a Championship banner, but McNabb and his teammates did leave New Jersey with memories they'd carry with them the rest of their lives, and even though he would have plenty of moments that could arguably top that in his football career, McNabb still looks back fondly on his time with the Syracuse basketball team.
"When the 'Cuse is in the house – Oh My God, we kind of ran with it," McNabb says. "It's moments like that, as a young kid, you don't forget. When I see pictures of all the guys together, and us during that run, it always comes back."