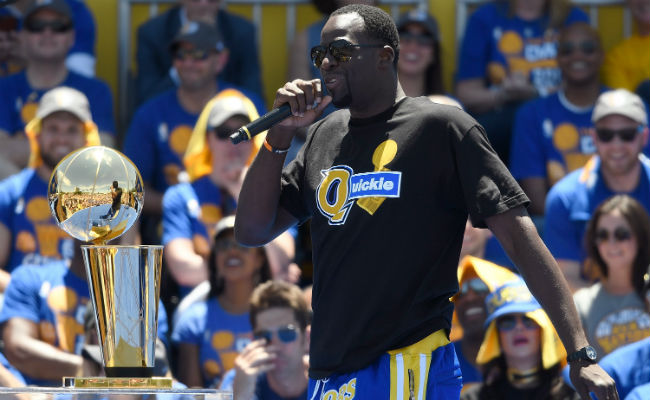 Draymond Green isn't happy about the latest draft pick of the Golden State Warriors. More specifically, he's not happy how he found out about it. Golden State bought into the NBA Draft on Thursday, sending $3.5 million to the Chicago Bulls to buy the 38th pick in the 2017 Draft and select Oregon's Jordan Bell.
It's the second straight year the Warriors have bought the 38th pick in the draft. Last year they took Patrick McCaw with the pick. Buying into the draft isn't exactly a surprise for the Warriors, but Green sent an expletive-filled series of text messages to Warriors general manager Bob Myers.
Turns out Green wasn't worried about losing his spot in the lineup, he just was so excited about the pick he didn't want to hear about it from the Internet.
"Draymond texted me as I was driving home and he said, 'What the' and then expletive 'is your problem?' to me. So you can fill in the blank. Then he said, 'I have to hear about this 'expletive' on the internet, you didn't expletive 'tell me about it!' So I couldn't text and drive so I called him and I said, 'OK, all right, calm down.'"
Myers said he got back to Green later and gave him Bell's information. Describing Draymond as the team's "mom," Myers explained that Green felt he should get in contact with him first. Green later FaceTimed the rookie to welcome him to the team.
"With Draymond, it's about respect," Myers told Bell. "I'm sure just by watching you, that's what you earn with him. So that's the type of team we have, but we feel like that's who you are, too. So we're excited."
Bell is thought to be a steal for the Warriors, who hope he adds depth to the team at a low price. If he can impress Draymond, he'll fit in there just fine.