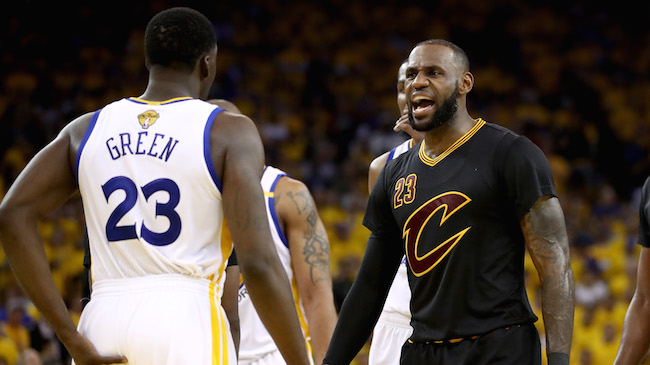 Winning two out of the last three NBA Championships should make most athletes feel accomplished. Apparently the exception is if you're Draymond Green, the cantankerous Swiss army knife that powers the Golden State Warriors' league-leading defense. Green, in the 2016 NBA Finals, struck LeBron James in the groin in Game 4 of that series and was suspended for Game 5 because of accumulated points due to flagrant and technical fouls.
Green, like many others, blames himself for the Warriors blowing the subsequent 3-1 series lead which saw LeBron and the Cavaliers take 3 straight games on the way to the Cavaliers winning the 2016 NBA championship. Green, for a few weeks, after those NBA Finals, sulked. He described his emotions in an interview with Slam Magazine.

"It was f*cking miserable," Green says now. "Y'know, going through the offseason, playing as long as we would have to win a championship, but we couldn't close it out — f*cking miserable."
After feeling miserable, Green famously went out and recruited Kevin Durant to sign with the Warriors. The rest was history, as the Warriors won this year's NBA Finals in 5 games. Some might say Green redeemed himself with not only his smarter play, but also being beneficial in the recruitment of Kevin Durant to the Bay Area. As for Green, he's in a far better place than he was 11 months ago.
"I feel completely different this summer," he says. "Last year, there was a dark cloud. Now I'm just on a cloud."
Whether that cloud continues as the Warriors look to be the first team to win back to back titles since the Miami Heat did it four years ago is yet to be seen. But if Green has anything to say about it, he'll be looking to hand out that same miserable feeling to 29 other teams.