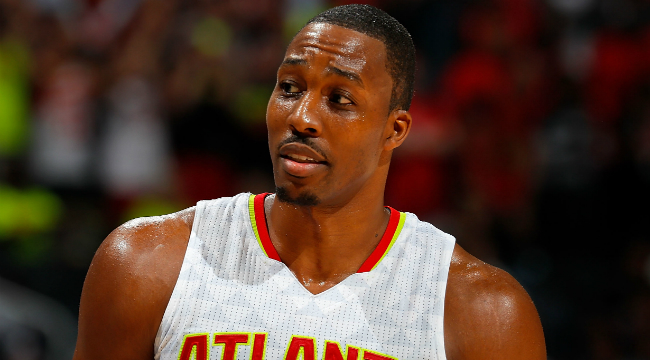 Dwight Howard will play for a team in the NBA's Southeast Division next season. The catch is that it won't be for the Atlanta Hawks. Instead, Howard is getting sent slightly farther north, as the former All-NBA center has been traded to the Charlotte Hornets. The news was first broken by Marc Spears of ESPN's The Undefeated.
The news was confirmed by Adrian Wojnarowski of The Vertical, who was able to expand on the deal a little. In addition to Howard, Charlotte will receive the No. 31 pick in the 2017 NBA Draft. On the flip side, Atlanta is getting Miles Plumlee, Marco Belinelli, and the draft's 41st selection.

This move was a little out of left field, as there weren't any rumblings that the Hornets were interested in taking Howard off of Atlanta's hands. The move reunites Howard with Hornets coach Steve Clifford, who was an assistant with the Orlando Magic and the Los Angeles Lakers while Howard suited up for those teams.
Additionally, Wojnarowski reported that Atlanta made this move out of a desire to shed Howard's salary — the 31-year-old center is signed through the next two seasons and will make just shy of $24 million each year.
It remains to be seen what the desire to shed salary means for Atlanta's chances to bring Paul Millsap back in free agency. This could mean that Atlanta wanted to free up as much money as possible for their All-Star forward, or if they are eager to invest in younger players like Dennis Schröeder and restricted free agent Tim Hardaway, Jr., Millsap's days in Atlanta could be numbered.