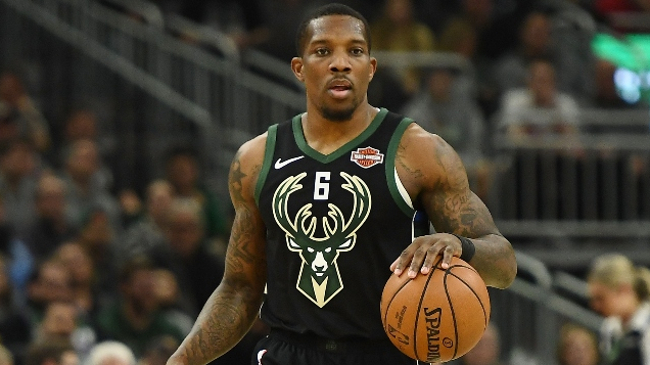 Eric Bledsoe's disastrous 2018 postseason is well-trodden territory. Terry Rozier got in his head, as did the Boston Celtics home crowd, and any chance of a Milwaukee upset was summarily shut down.
Bledsoe appeared to be putting that playoff series behind him this year. He had an excellent regular season, in which he could have been the Bucks' second All-Star instead of Khris Middleton, and he earned an extension for the next four years in the process. His postseason also started off with promise. Against Detroit in a first-round sweep, he averaged over 19 points and 5 assists per game on 52.5 percent shooting from the field. He looked confident and aggressive and ready to help Milwaukee take control of the Eastern Conference.
And then Boston happened again. Milwaukee's five-game domination of the Celtics helped obscure some of Bledsoe's struggles, as did George Hill's unexpected emergence, but last year's Bledsoe has returned, and the Bucks are finally in a position where they need more from him.
Over the last two series, Bledsoe is shooting 34 percent on twos, 18.6 percent from 3-point range, and 62.5 percent from the free-throw line. That is astonishingly bad, and also significantly worse than "Drew" Bledsoe in 2018. Bledsoe is also assisting less frequently, as his assist percentage has dropped from 26.0 percent during the regular season to 22.4 against Boston and Toronto. His turnovers have also jumped from 9.9 to 11.1 per 100 possessions.
Perhaps most damningly, Bledsoe has lost faith in his ability to make plays. ESPN's Malika Andrews reported that the team was trying to 'reassure' Bledsoe that his preparation would pay off after the Game 4 blowout. The proof is also in the guard's usage rate. Bledsoe finished 22.3 percent of possessions for Milwaukee during the regular season but only 16.6 percent during the last two rounds of the playoffs.
The Raptors have noticed and are heavily shading off of Bledsoe when he doesn't have the ball, which has caused him to settle for threes just to try to keep the defense honest, but he isn't converting.

That means that the lane isn't open for Bledsoe, either, and that's where he did the majority of his damage during the regular season. Giannis Antetokounmpo wasn't the only Buck who benefited from the team's collection of willing and capable three-point shooters; Bledsoe took 45 percent of his shots at the rim during the regular season, per Cleaning the Glass, and made 68 percent of them. He's only getting 39 percent of his shots at the basket during the playoffs, and the extra shots have all come in the midrange, where he's making 29 percent of his looks.
He is having difficulty even converting around the rim because Toronto knows what to expect. When Bledsoe gets into the paint, he is meeting a group of Raptors, all with extraordinary length to deter his path.
Against Boston, Bledsoe's defense on Kyrie Irving was able to mitigate some of the damage of his offensive regression. He hasn't had a similar impact on Kyle Lowry, though, who went off for 25 points Tuesday and has generally been far superior to his Bucks counterpart. Lowry has been more careful with the ball, creating for his teammates, and shooting well as the Raptors have tied the series.
All of this puts Milwaukee in a precarious position. Hill has been much more efficient (69.2% true shooting in the last two rounds) in a similar minutes load to Bledsoe. He also has a miniscule turnover rate and seems much more comfortable playing off of Antetokounmpo and Khris Middleton. Malcolm Brogdon is also back, providing the Bucks with another capable ball-handler and shooter. Milwaukee doesn't want to ruin Bledsoe's confidence, though, particularly not with a series against Stephen Curry looming, but in order to get there, the team needs better production from its point guard spot.
On a larger point, the Bucks have to be wondering if they did the right thing extending Bledsoe during the middle of the season if they can't rely on him during the playoffs. Admittedly, Milwaukee was facing an offseason in which four of its five starters would be free agents: Brook Lopez, Brogdon, Middleton, and Bledsoe. Of those players, the Bucks were able to offer only Bledsoe a contract that made financial sense, given that the other three players are underpaid relative to what they would command on an open market.
But now the team is stuck with a player who hasn't been able to perform on the biggest stage for the second consecutive season. Bledsoe has already secured his future, but if he continues to play like this, he will significantly damage Milwaukee's future success in the process.