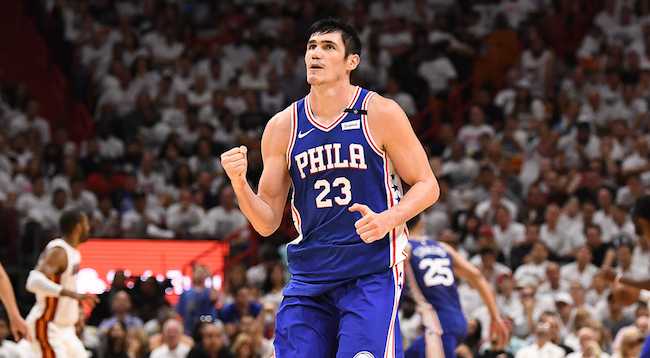 The Philadelphia 76ers will tip off their second round series with the Celtics in Boston on Monday night. The Sixers will need to pull at least one game off of the Celtics in Boston to win the series, and Game 1 may be one of their best opportunities.
Jaylen Brown is officially listed as "doubtful" for Game 1 as he works his way back from a hamstring injury suffered in Game 7 against the Bucks, and without Brown the Celtics will be without one of their best perimeter scorers. This is an opportunity for Philadelphia, but the veterans on the squad know they're about to enter a very different atmosphere at TD Garden than they've faced to this point.
Against Miami, the Sixers were able to win both of their road games on the way to a relatively stress-free five-game win over the Heat. Philadelphia's young stars looked very comfortable in Miami, with Ben Simmons, Joel Embiid, and Dario Saric all having big games in Games 3 and 4. However, J.J. Redick told ESPN's Ian Begley that Boston is "as loud as it gets in the playoffs," noting the frenzied atmosphere that the Celtics rode to a first round victory.

While Redick was complimentary of the Boston crowd, Ersan Ilyasova took it a step further noting how different it will be from what they faced in Miami, where it wasn't exactly the most hostile environment.
"When we were in Miami … the gym was half-empty," Sixers reserve Ersan Ilyasova said after the team's practice. "But when you go to Boston, you will feel it. Even in the regular season, you know when you play that team, the arena is full, and they're really committed fans."
This certainly won't go over well with Heat fans, who have long found themselves with a reputation (fair or not) as fair weather and the most dedicated have furiously fought that designation. Ilyasova may not have meant it as a direct shot at Miami, but it certainly cuts deep and if there were any doubts the Sixers-Heat rivalry wouldn't continue next season, this has ensured it will.