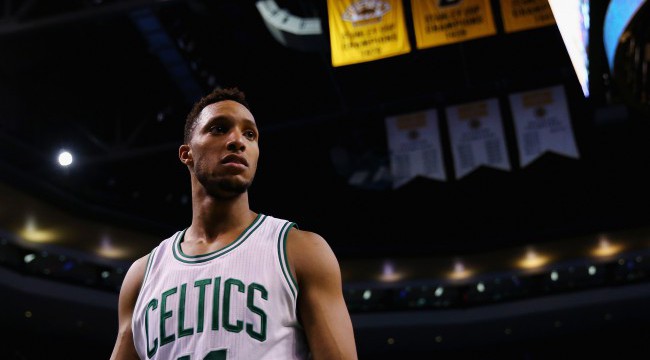 Evan Turner's NBA career hasn't quite gone as planned. As the second overall pick in the 2010 draft, he was supposed to turn the Philadelphia 76ers into perennial contenders. That didn't come close to happening, though, and Turner roamed the NBA landscape for awhile before finding a nice home with a spunky Boston Celtics team.
He's not viewed as a star because of his sporadic play throughout his career, but a closer examination of Turner's statements to the media reveals a player on the rise. A player who could very well be on his way to becoming one of the most quotable ever, maybe.
No one in the league brings it every night during the post-game media scrum like Evan Turner. He's smart, determined and this list of quotes compiled by NBA Reddit user ank1613 shows that he's on a path to greatness.

Kobe Bryant draws a high level of respect from everyone around the league. He's a ruthless competitor that puts fear into everyone's eyes. Everyone except for Evan Turner, that is:
"I had teammates that said, 'When you go out there, don't look at him in his eye. Don't talk to him or anything; it's going to give him an edge.' Like he's some type of pit bull or something. … Then he came up to me and patted me on my back. He was like, 'How you doing? How's your mom?' I was like, 'She's all right.'
Kobe is only second to Michael Jordan in terms of legacy and cult-like status in the NBA. Turner wants to build a legacy that surpasses theirs. Kobe, Jordan, Turner, or something like that:
"When I was dribbling, I was like, 'Oh, snap, I'm at 15 feet, I'm about to end this.' And then I thought about [Michael Jordan] passing to Steve Kerr. And I thought, 'Well, let me add that to my legacy. I'll pass one time.' And that was it. It was unbelievable, actually. Ingenious by me."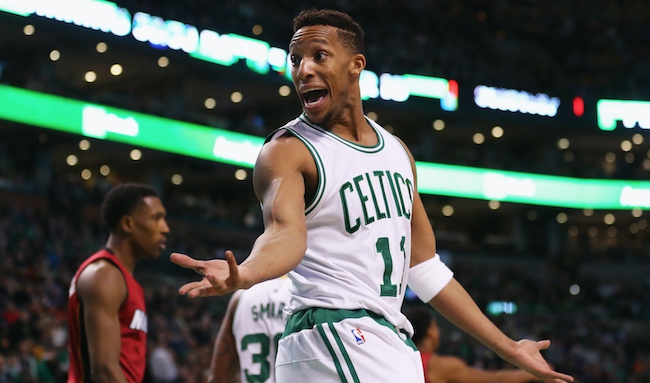 But building a legacy means burning some bridges along the way. Every great person had haters. Kobe had haters. Jordan had haters. You know who else had haters? Jesus.
"Before the game I signed like 100,000 autographs, I'm kissing babies and what not and all that stuff. I'm getting my hand kissed by people; I got little girls come up to me, fainting. Once the game started, it was like, 'What the hell is going on?' I was like, 'This is weird. Did they take all the good people out? … I don't worry about it anymore. I don't want to sound super weird, but Jesus was hated, too. At the end of the day, I just worry about the stuff that's important. If it makes you happy to boo me, go ahead. I'm still happy. I put all that stuff behind me."
Evan can't become the greatest basketball player of all-time by himself. He needs his teammates to put him in a position to succeed. In order to utilize his full skill set, Turner needs pristine spacing around him. Do not ever throw the ball to Evan Turner in bad spacing:
"Kelly had the ball and I'm like… he better not pass it to me. It's like an unwritten rule of the NBA. So I'm like, 'he better not pass it to me'… and the ball is coming toward me and I'm like 'This dude is a big asshole'. Like… the whole time I'm looking at him like 'You better not pass me this ball, what are you doing bro?"
If Turner wants to reach these lofty goals he's set for himself, he has to improve his jumper. Shooting 15 percent from behind the arc is unacceptable, right Evan?
"You've gotta respect a 15-percent 3-point shooter. A guy like that is always lethal.  It's 15%, but it's a big 15%."
Brad Stevens needs shooters to make his system work. He considered bringing Turner off the bench to shake up the starting lineup. However, best-player-ever Evan Turner had to set him straight:
"[Brad Stevens] spoke to me. I had to smell his breath for alcohol. I checked his office for drugs. I said, 'You've gotta be high.' You know what I'm saying? But I kept it classy, of course, and I trust the process. And that was it. But it's unbelievable, right?"
Turner wants to be great both on and off the court. He wants to set an example for the kids to follow, so he made a list of important resolutions for 2016:
I'm just trying to stay out the way. That's it. You know what I'm saying? Once again, I have a '27 years without getting arrested' streak, so I wanna keep that up. Maybe texting people back quicker. Stop lying about not seeing people's text messages. That would help. Checking my email more, maybe. You know what I'm saying, kind of to be more dependable in that aspect."
The most important lesson the kids—all of us really—can learn from Evan, comes in the relationship department:
"I'm married to guap. Taken."