Puma's re-emergence into the world of basketball has been defined by two things: a concerted effort to pay homage to its past, and bold color combinations to ensure they stand out in the ultra-competitive world of footwear. Both of these things have been apparent in its first two shoes, the Clyde Court and the recently-released Uproar, and the myriad of colorways that have been on display.
The latest example of this comes via the newest version of the Uproars, a sneaker that Puma released in time for the 2019 NBA All-Star Game. It's dropped in a pair of colorways, with the latest, the Uproar Spectra, dropping on April 12 for $120.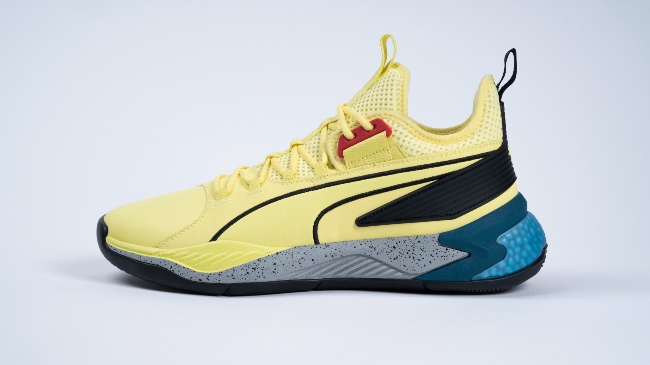 "It's a combination of, specifically, the Thunder Spectra, which just came out not too long ago for Puma, but that shoe itself goes back to our old school Trinomics," Puma designer Jacob Garcia told Dime about the unique colorway. "That was a big era for Puma which people still link back to. That's going back to an era when people might have some visual language that remember us by, so it's the Disc or Trinomics. It's a combination of looking back at that old school look, but there actually is a shoe that it ties back to directly modern."
The shoes, without any question, make a statement — not many sneakers are a vibrant yellow (a shade Puma calls "Limelight") with hints of black, blue, gray, and red mixed in. They're the kind of kicks that jump off the screen when you see them on television, or cause heads to turn when a player wears them on the floor.
"The bright colors are the ones that make a big splash," Raptors wing Danny Green says. "So the Clydes — the Court Disrupts, the orange ones — everybody loved those. You can see them from afar. They kind of made a big splash. I think these are gonna do a similar type of deal."
It's been a big year for Green in general, as he's made major moves on and off the court. Months after he was traded from the San Antonio Spurs to his current team, the Toronto Raptors, Green hopped on board with a number of rookies and veterans like DeMarcus Cousins to be a part of Puma's reemergence in the basketball game — he says there's "for sure" a sense of camaraderie among its athletes as they're part of the sneaker game's new kids on the block. Even now, months after that decision, the opportunity to be a part of its roster of players is something Green finds exciting.
"You feel special," Green says of his experience as a Puma player. "Everything I've asked for, they've done, they covered it tenfold. Everything I've asked them to do, they come up with it, they figure it out. They get it done and they get it done really fast."
Green specifically praised working with Puma with its Reform initiative and corresponding sneakers and during NBA All-Star Weekend. But of course, being with a certain sneaker company is all for naught if the shoes don't feel right on your foot. So when Green met with Puma in Boston during the offseason, he wanted to see how their sneakers — at the time the Clydes — felt on his foot.
He went through a workout and was pleasantly surprised, saying that they "looked like a walk around shoe, so you didn't expect it to perform that well." And this season, those have been the shoes that Green has worn on his feet. But while Green is adamant that the Clydes have been great, there's something exciting about getting to wear something new, especially because he believes the Uproars are more conducive to his style of play.
The biggest things for him in a sneaker are comfort, stability, and ankle support, while it's important as a guard that he's able to "stop and go." While he can do those in the Clydes, he feels "really sharp" doing them in the Uproars.
"I feel they both give you range of motion, both shoes cut a little differently, but I feel like this one probably has a little bit more guard-like movements I can do in it more naturally," Green says. "The other ones can do them, but they look more like a big man's shoe and they feel a bit more like a big man's shoe out there. They're both great shoes."

This doesn't mean big men don't love the Uproars, too — Garcia says Cousins, for example, hasn't wanted to take the Uproars off. Plus on Tuesday, Kings big man Marvin Bagley wore the Uproar Spectras against the Houston Rockets.
The Spectras looked to accomplish something important for Garcia and those who designed them. All three of the Uproars looked to tell some type of story — the "Charlotte" colorway paid tribute to the Hornets and Bobcats when they were released at All-Star, while the "Palace Guard" was all about Detroit.
"The Spectra was tying back to the Thunder shoe," Garcia says. "That Thunder is pretty known for having that black, red, teal, and bright yellow so we went with that bright yellow just to tell another bright encore story."
Specifically, the goal with the Uproars is to have an old school look with a new school feel, and if they can take a lesson they learned from the Clydes, that wouldn't be too shabby, either.
"One of the things that worked really well for the Clyde, that we liked, was that people didn't necessarily look at it as a basketball shoe," Garcia says. "It doesn't pop off the shelf as super tech, but then when you see athletes performing in it, it meets all the criteria. That was sort of the same approach for this shoe. If it didn't necessarily look like a prototypical basketball shoe — it had move like a running vibe, but still had all that basketball function — [that] would sort of be a win for us."
It's a bit of a different way of doing things, hiding basketball functionality inside of a sneaker that might not necessarily look like it's designed for some of the best athletes in the world. But bucking elements of conventional wisdom has been a hallmark of Puma's return to basketball. It's an approach that they believe has worked, and for Green, doing things a bit differently is a point of pride.
"I think Puma's very smart, strategic at that in how they're doing things — getting the word out and getting the new shoes out and getting people to gravitate toward it," Green says. "So when people see these types of colors, those energies, vibrant things, it makes it easier to point out, especially from afar on the court. 'Wow, what at those?' 'Yeah, those are Pumas.' 'Wow, Pumas really got those with that.' So when you're drawing the right, positive attention, people want to get it."