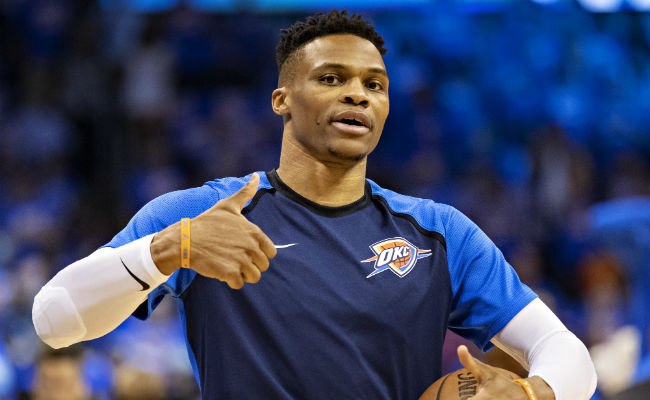 There's been so much movement during the NBA's free agency period this summer that it could register on the Richter scale, and we might not even be done yet. After Kawhi Leonard finally chose the Los Angeles Clippers as his next destination, luring Paul George out of Oklahoma City to join him via trade, the Thunder find themselves in a precarious spot. With George gone after just two seasons and back-to-back first round playoff losses, it's beginning to feel like it's also time for the Russell Westbrook era to end as well.
After snagging a historic haul of picks from the Clippers for George, then snagging another future first rounder for Jerami Grant in a trade with Denver, OKC now holds six future first round picks as they embark on what should be a total rebuild. There are rumors swirling that teams like Houston, Miami and Detroit are all showing interest in Westbrook and, with teams reportedly given the OK to call OKC, we cooked up five trades that would officially signal the end of Westbrook's time on Oklahoma City

Houston Rockets get: Russell Westbrook
Oklahoma City gets: Clint Capela, Eric Gordon, P.J. Tucker
Despite coming off a disappointing playoff performance, Clint Capela is still just 25 years old and under contract for the next three seasons. Eric Gordon is in the final year of his deal and could be an asset at the trade deadline with his expiring contract as the Thunder go full rebuild, as would Tucker, who has two years left on his respective contract. For Houston, they get to trot out a trio of Chris Paul, James Harden and Westbrook in a Western Conference that's as wide open as it's been in years.
Miami Heat get: Russell Westbrook
Oklahoma City gets: Goran Dragic, Justice Winslow, Bam Adebeyo
Snagging Winslow and Adebeyo for further development is the the draw for the Thunder here, and, depending on how attached the Heat are to their first round draft pick Tyler Herro, perhaps the Thunder can ask for him, too. Dragic is in the final year of his deal, and will still have trade value as teams look to solidify their backup point guard position as the deadline nears.
Westbrook and the newly acquired Jimmy Butler would be an explosive combo, both on and off the floor, but it would immediately make the Heat a contender to win the Eastern Conference.
Detroit Pistons get: Russell Westbrook
Oklahoma City gets: Reggie Jackson, Luke Kennard, Sekou Doumbouya, Langston Galloway
If the Thunder really want to focus on a major rebuild, adding Luke Kennard and no. 15 overall pick Sekou Doumbouya is a heck of a place to start. Reggie Jackson is on an expiring contract, too. Detroit nabbed the No. 8 seed last season, but an injury to Blake Griffin made their first round matchup with the Milwaukee Bucks a walkover. Griffin is coming off the season of his life, and pairing him with Westbrook would make for an incredibly lethal inside-out punch.

Chicago Bulls get: Russell Westbrook
Oklahoma City gets: Coby White, Otto Porter, Wendell Carter, Denzel Valentine
The Bulls are obviously high on Coby White, the point guard out of North Carolina they took with the No. 7 overall pick in the 2019 NBA Draft, but the opportunity to acquire Westbrook makes parting with him a no-brainer. The Thunder get two young pieces with huge upside in White and Carter and a strong wing in Porter. The Bulls get to bring out a lineup with Westbrook, Zach LaVine and Lauri Markannen. Everybody wins.
New York Knicks get: Russell Westbrook
Oklahoma City gets: Frank Ntilinka, Dennis Smith Jr., Reggie Bullock, Wayne Ellington, Taj Gibson
Desperate for a star after missing out on every major free agent in the 2019 class, the Knicks would love to be able to make Westbrook the new face of their franchise alongside R.J. Barrett. This trade gets a bit tricky, as Bullock, Ellington and Gibson can't be traded until Dec. 15, but this is the basic framework of a deal that would work financially, per SNY's Ian Begley. Could the Thunder pry away someone like Kevin Knox or Alonzo Trier, too? That remains to be seen, and Smith Jr. is already a Westbrook-lite type of player. Never underestimate a desperate team, though. Especially the Knicks.