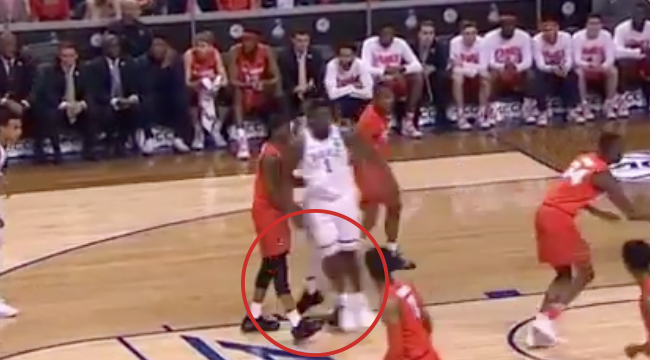 Zion Williamson's return to basketball took place on Thursday night. The Duke Blue Devils star missed basically the team's last six games of the season due to a knee injury, and while it was expected he'd return to action during the ACC Tournament, that became official earlier in the day. He immediately reminded everyone why he's the favorite to go No. 1 overall in the 2019 NBA Draft, scoring 21 points, pulling down nine rebounds, and securing five steals while shooting a perfect 9-for-9 from the field in a half.
One moment during the half went unnoticed by a number of observers, but was pointed out at the half by ESPN's Jay Williams. Frank Howard of Syracuse looked to stick his foot out while Williamson was running back on defense, which caused Williamson to momentarily stumble.
Williamson wasn't hurt or anything, and Howard looked to stick his arm out after it happened, although it's unclear whether that was an apology to Williamson or just Howard sticking his arm out. It's not a great look considering Williamson missing so much time due to a knee injury, and we'll keep you updated on what happened here once the game ends in the event Howard is asked about the incident.