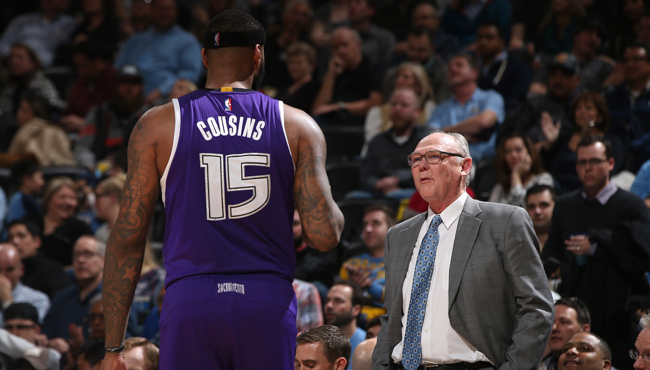 George Karl has bigger sh*t to worry about right now, but during Wednesday night's loss to the Cavs, the much-maligned Kings coach had yet another altercation with DeMarcus Cousins on the bench and was criticized by another player after the game. It just might signal – yet again – that the end of the marriage between the Kings and their head coach is near.
First, Boogie got into a screaming match with Karl during the game.
@World_Wide_Wob Cousins screaming at George Karl. Rondo gets in front of him trying to calm things down…..lol. pic.twitter.com/A8ezpuOaS5

— Junior Coimbra (@JrRap77) March 10, 2016
This isn't new. Karl and his star have exchanged cordial pleasantries before, so what was this eruption about?
ABC 10 Sacramento's Sean Cunningham has the lowdown.
Some have said the Kings are done with Cousins as their franchise cornerstone, but they're moving into a new arena next year and they want to sell tickets. Cousins does that, or at least makes them watchable and might convince some Sacramento denizens to chalk up a little more dough to get through the turnstile. Boogie has even switched his opinion on Karl after the foolish way Sacramento brought Karl on board last season when the former SuperSonics and Nuggets coach almost immediately looked to deal their franchise center; although, this latest brouhaha might mean Boogie is back to thinking Karl is just a snake in the grass.
But Cousins wasn't the only Kings player upset with Karl on Wed. night. Willie Cauley-Stein, who also has a history with Karl, spoke out about his coach after only playing 12 minutes in the game:
(H/T Hoop Ball)
"Filmsy," eh? OK. Maybe the rookie's right. He appeared to be a difference maker earlier in the season, and his size does allow him to guard a eclectic group of opponents — including Ryan Anderson, who was mentioned in the video.
But Cauley-Stein's gripes, whether founded or not, aren't the point. Karl is the coach, and maybe we're old fashioned, but you keep that grievance bottled up, so it feasters and eventually bubbles to the surface at an inopportune time when you're out with your coach and the drinks are flowing perhaps it would have made more sense for Cauley-Stein to go to Karl directly with this problems, rather than talking to reporters about them.
We don't know, though. We don't play for the Kings. Maybe Karl doesn't listen — especially to rookies. Maybe all the snake imagery is warranted (for what it's worth, the Devil was our favorite character in Paradise Lost; the same Devil who chose to be a snake in order to sneak back into the Garden; we're not comparing George Karl to the Devil, merely adding a totally unnecessary tangent to Milton because the snake stuff is weird, and if Karl were the Devil, then we'd still be half rooting for him anyway because Gabriel was a bit of a turd).
Regardless of how Karl has been coaching, the Kings franchise is treating him like dog crap, and he's already felt like dog crap enough with repeated trips for chemotherapy. Now he's having another cancer-related treatment and we just want him to stay away after that. He'll be happier, we think.
Vlade Divac told Karl to "take as much time as he needs," after the surgery, and we think that should be permanent. In our minds, Karl's got too much honor and self-worth to continue this canard of a coaching job in Sacramento.
Majority owner Vivek Ranadive is crazy enough there's a bit of a coup to replace him, and Vlade was a great, intelligent player, but his GM record is spotty at best and they've really bungled the handling of things this year. He even — reportedly — pulled rank when Karl tried to suspend Boogie earlier in the season before asking the players if they should fire Karl. What kind of boss does that?
Karl was on the cusp of being terminated before the All-Star break, just one year after being hired. He should just quit. He doesn't need the money from a buyout or a straight firing (we hope) and it would be the a stronger repudiation of the decision-makers in Sactown to quit then if he just finished out the tenure of his contract, which still has three years on it.
George Karl is better than this job in Sacramento. We hope he still knows that. Regardless of what Karl does, we also hope his operation goes well today.
Update:
According to General Manager and Vice President of Basketball Operations, Vlade Divac, Cousins has been suspended one game for "conduct detrimental to the team." He'll serve his suspension on Friday when the Kings play the Magic.