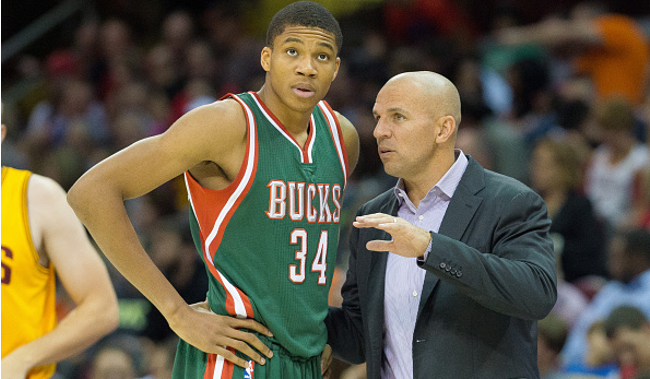 In just a few short years, Giannis Antetokounmpo has gone from that gangly kid with the funny name to one of the NBA's brightest young talents. But his rise from Mediterranean obscurity hasn't always been a smooth one. He's had to prove his worth just like anybody else, and that's not an easy challenge when your coach is one of the all-time greats at your position.
Antetokounmpo is part of a new wave of NBA unicorns who are built like centers but play like point guards, and his development as a play-maker is in no small part thanks to Jason Kidd's tutelage. It's a relationship built on trust and respect, which a young and naive Antetokounmpo learned through a rather enlightening moment of adversity with his coach early in his career. Via Lee Jenkins of SI.com:
The first time Kidd benched him, Antetokounmpo was irate. "I was like, 'Let's see what this guy did in his career, anyway,' " Antetokounmpo recounts, and called up Kidd's bio on his phone. "I saw Rookie of the Year, NBA championship, USA Olympic gold medal, second in assists, fifth in made threes, blah, blah, blah. I was like, 'Jesus freaking Christ, how can I compete with that? I better zip it.' "
Aside from making us all feel very old, Antetokounmpo's story shows a tremendous amount of character. And his willingness to learn is evident in his all-around stellar play. All of this should culminate in his inaugural All-Star appearance next month, especially if he keeps making the types of plays that cause people to switch fan bases entirely.
(SI.com)