Playing the Milwaukee Bucks has been a bit of a nightmare for opposing teams. This, obviously, is evident in the fact that the team sits atop the NBA at its All-Star break, boasting a 43-14 record. It's one win below where the team found itself in 2018 before making the postseason and getting bounced in a grueling seven-game series against the Boston Celtics in round one.
The team made some major changes during the offseason, bringing in ex-Atlanta Hawks coach Mike Budenholzer to modernize the way they play. The Bucks have responded by skyrocketing from 20th in the NBA in pace last season to fifth in the league in 2018-19. Their shot chart is the platonic ideal of what a shot chart should look like in the modern NBA, one that largely eschews midrange jumpers and focuses on threes and attacking the rim.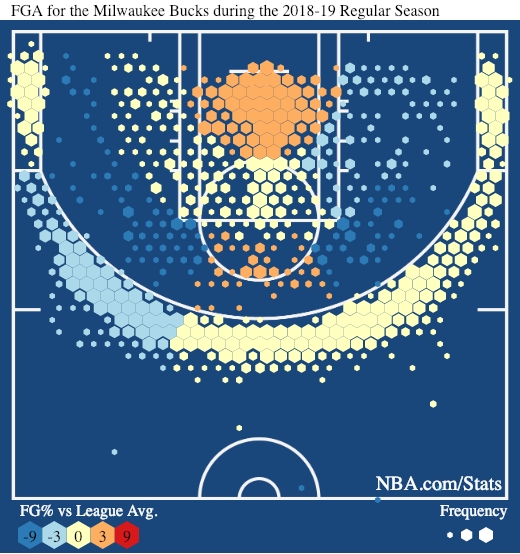 Milwaukee is second in the league in three-point field goal attempts and 27th in the league in two-point field goal attempts. Despite being 18th in three-point field goal percentage and tops at shooting from inside the arc, the Bucks have an identity, and it works. Because of it, Milwaukee is a legitimate contender for a championship.
"I think we're just trying to encourage everybody to play unselfishly, to move the ball, move each other, player movement, stuff like that," Budenholzer said during All-Star Media Day. "If you're open, take advantage of it, and everybody play with a lot of confidence. I think all up and down our roster, everyone understands how we want to play and I think everybody's reaping the benefits of it."
As Budenholzer mentioned, this would not be possible if there wasn't a complete, top-down buy-in by the players. For Milwaukee, that starts with Giannis Antetokounmpo, who in his sixth year keeps finding ways to improve his game and terrorize opposing defenses with his uncanny mix of size, strength, agility, and skill. Antetokounmpo is constantly analyzing his game, looking for areas where he can take steps forward when the season comes to an end.
"You gotta take it piece by piece," Antetokounmpo told Dime during All-Star Weekend. "I know there's a lot of parts of my game where I have to improve and that I can get better one. Most of the offseason, I just keep some notes during the regular season so at the summer, I know exactly what I have to go back and work on. I take it piece-by-piece, and hopefully a year from now, two years from now, go down the road three, four, five, six years from now, you can have the final product."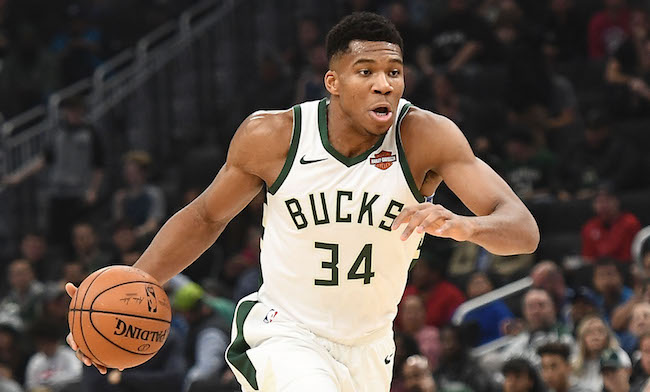 A new coaching staff, one that wanted to modernize the way Milwaukee played, played a role in Antetokounmpo working a pair of areas: Three-point shooting and, as he says it, "finding open teammates." He's still developing the former (he's connecting on 22.3 percent of his triples), even if he has been a more willing shooter this season — Antetokounmpo has taken 130 threes in 2018-19, 10 fewer than his total from the previous year. As for the latter, Antetokounmpo's averaging six assists per game, which serves as a career-best mark.
At 24, Antetokounmpo is someone who still has room for improvement, which is scary, because he very well might be the frontrunner for league MVP right now. More important than becoming a better shooter or distributor is the mere fact that he views this as necessary, the kind of drive that's necessary for anyone who wants to go from great to elite.
He also knows what it's like to suit up for a less-than-stellar squad — Milwaukee was a league-worst 15-67 during his first season in the league — and now is seeing the other side of it. It's made it so the team knows what it has to do as it goes from the hunter to the hunted.
"It's just the opposite, teams are trying to take us down," Antetokounmpo says. "At the end of the day, we have to achieve our goals. Yes, do we have to change our mentality? We do. Our goal is to win the championship and play at a championship level."
This mindset, along with the team's success, has galvanized a championship-hungry fanbase in Milwaukee, a city which Antetokounmpo was "really excited to represent" as part of his partnership with JBL.

"It fits my personality," Antetokounmpo says of Milwaukee. "The fans over here love, love basketball and support their teams. It's low profile. There's not much to do in Milwaukee, just focusing on getting better every year. There are organizations, the Packers, the Brewers, and the Bucks, I just love that about the city."
With Antentokounmpo's single-minded focus on getting his first ring, there may not be a better place for him to accomplish this goal than Milwaukee, a city that hasn't seen an NBA championship since Lew Alcindor and Oscar Robertson brought one home in 1971. As was the case then, the Bucks have a transcendent star in Antetokounmpo, and in his eyes, as long as the Bucks keep grinding, anything is possible.
"Our goal is to get better every day," Antentokounmpo says. "Get better every day and improve, and everything's gonna take care of itself."