Believe it or not, despite all those years of towering futility, this current Golden State Warriors team isn't the first to capture the imaginations of fans around the Bay Area. Before Steph Curry, Klay Thompson, and Draymond Green were wreaking havoc on the rest of the league, there was Tim Hardaway, Mitch Richmond, and Chris Mullin, better known as "Run TMC," perhaps the greatest nickname in the history of professional sports. It's an acronym comprising the first initials of each of their names and a nod to the '80s hip-hop pioneers (if those two things weren't readily apparent), and how they ended up with it is an entertaining bit of trivia, as well.
For two brief but glorious seasons from '89 to '91, legendary coach Don Nelson used this supremely-talented trio to engineer a high-velocity attack, known as "Nellie Ball," that was a premonition of things to come. The uptempo style that helped Run TMC lead the league in scoring their first season together is now the dominant trend across the NBA, and there's no better example of this than the contemporary version of the team, which just wrapped up the greatest regular season in NBA history with a record-breaking 73 wins.
But despite the ubiquity of the name (it really does roll off the tongue) and the persistent nature of the legend, the Run TMC crew experienced only a modicum of success. In fact, they won just a single playoff series (an upset over David Robinson's Spurs) and actually had a losing record overall (81-83) during their brief tenure together.
There was, however, a certain joie de vivre in their style of play that resonated with fans and captivated audiences around the league. You can see that same spirit of exuberance in today's monolithic Warriors. Both teams are wildly fun to watch, the former if only in YouTube clips, depending on when you were born.
If you think the 2016 Warriors are an offensive juggernaut, consider that the Run TMC crew was responsible for the highest-scoring, non-overtime game in NBA history, a 162-158 scoring extravaganza in their opening-night win over the Denver Nuggets in '91.
That year, they were also the highest scoring trio in the NBA, averaging an astounding 72.5 points per game combined. Only one other trio in league history where each player averaged at least 20 points per game has averaged more points over the course of the season, the high-octane triplet of Alex English, Kiki Vandeweghe, and Dan Issel on the 1982-83 Nuggets.
The visionary Nelson anticipated another one of today's hottest trends: versatile, small-ball lineups. Here's what Hardaway had to say about their experimental rotations in Fran Blinebury's fantastic profile of the Run TMC crew from last season. Via NBA.com:
"Big guys playing outside, small guys going inside, point forwards starting the offense," said Hardaway. "Around the league it was: 'What are you all doing? What is this about?' They didn't know how to even play against us. They didn't know how to discuss it. They didn't know how to plan for it. It was mind-boggling to the other team."
It's an ethos that wouldn't fully catch on around the NBA for many years, and the front office's reluctance to embrace that philosophy was a big factor in the group's sudden demise after the '91 season. The conventional wisdom at the time still held that you needed a more traditional frontcourt player to anchor an NBA team, and despite their widespread popularity, Run TMC's meager postseason successes only seemed to reinforce that notion.
So that summer, the Warriors' brass strong-armed Nelson into trading away Richmond to the Sacramento Kings for 6'9 rookie Billy Owens. Though they would go on to make the playoffs the following year, Golden State was bounced out of the first round and didn't make another postseason appearance until 2007. It's a trade that Nelson regrets even to this day.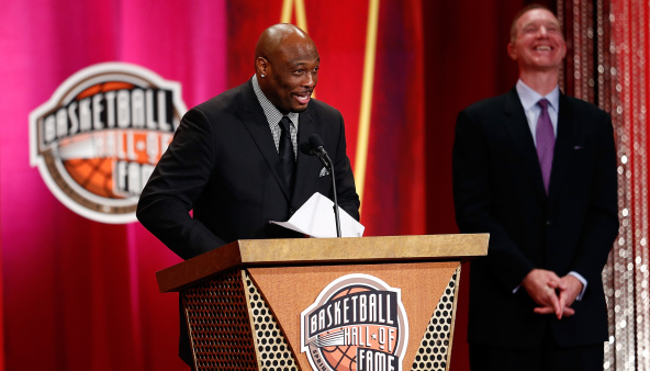 One can only speculate as to what they might have accomplished had they kept their core intact and built around them over the next few years. Still, two out of the three went on to have Hall of Fame careers. Richmond entered the Hall in 2014, while Mullin was inducted in 2011. Hardaway has just missed the cut on two previous occasions. Richmond is the only of the three to win an NBA championship, although it was in the twilight of his career as a nominal member of the 2002 Lakers. He retired immediately after that season.
Though the enduring legacy of the Run TMC squad has very little to do with wins and losses, it's obvious in both the spirit in which the current team approaches the game, as well as their run-and-gun style. And it's something die-hard fans won't forget anytime soon. One fan, in particular, you may have heard about.