Mike Krzyzewski is stepping down as the head coach of the men's USA basketball team after the 2016 Olympics, leaving a huge hole in the organization. Krzyzewski brought Team USA back to prominence after disastrous (by USA standards) finishes in the 2004 Olympics and 2006 FIBA World Cup. Finding a replacement for Coach K won't be easy, but according to Ken Berger of CBS Sports, the organization already has a top choice in mind: Gregg Popovich.
The Spurs' five-time champion coach is "clearly, unquestionably the No. 1 choice," according to a person involved in the coaching business. "There really is no second place." Not only is he the most accomplished and respected current NBA coach, but Pop also checks several other boxes that Krzyzewski and Colangelo will no doubt consider in identifying possible successors. (Yes, both men will have most, if not all the say in who gets this gig.)

[…]

But working heavily in Pop's favor is a feeling among NBA head coaches that it's time for one of them to take the reins from Krzyzewski. "They've become very territorial about this," the coaching industry source said. Two caveats to keep in mind: Popovich's long-ago rivalry with Colangelo's Phoenix Suns, and the fact that Pop may be looking for Colangelo to roll out the red carpet — which isn't Colangelo's style.
Of course Pop is the first choice; that's a no-brainer. He's the best coach in the NBA today, maybe even of all-time.
Coach K did an excellent job of getting multiple stars to buy into a system, sacrificing numbers for team success. Pop's been doing that ever since he drafted Tim Duncan. It'd be exciting to see what he could do with a team of the best players on the planet. Yet, while Berger lists two caveats that might prevent Pop from taking the job, there's one he doesn't mention that's an even bigger obstacle: whether Pop even wants to do it.
In March, when asked about the season potentially stretching into July, Popovich said he wouldn't show up. As much as he enjoys coaching, he also has a healthy detachment from the game and realizes the importance of time off. Taking the reins of Team USA wouldn't afford him such a luxury. It would be an incredible opportunity, but it's hard to see someone like Popovich, who has so many other interests outside of basketball, taking it.
Berger also mentions Doc Rivers, Rick Carlisle, Sean Miller, John Calipari and Billy Donovan as potential replacements. One coach not on that list, but who I feel should be considered, is Erik Spoelstra.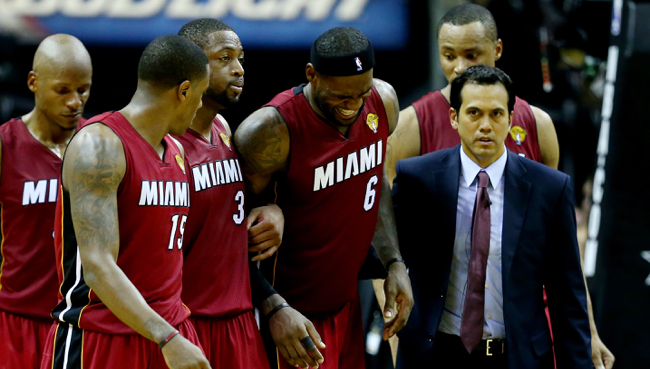 The head coach of the Miami Heat has a lot of the same attributes that make Pop so appealing. He got Dwyane Wade, Chris Bosh and LeBron James to buy into a system that drastically altered their roles and styles, all so they could more effectively play as a team. Wade, once the unquestioned leader of the team, took on a complementary role; James shifted to the four after his first year, becoming all the more dominant by adding a post game; Bosh became the ultimate role player, a hybrid 4/5 who could a little of everything on offense and defense. Obviously, Bosh, Wade, and James had the talent to become whatever player they needed to be, but they probably wouldn't have accepted those responsibilities were it not for their coach.
Spoelstra's also proven himself to be a great tactician, one who refuses to be bound to any one strategy. He works with what he's given, and crafts a system around those pieces, much like what Coach K has done with Team USA. Youth is also on Spoelstra's side. At 44 years old, he's more likely to commit to the cause for a longer term than the 66-year-old Popovich.
Team USA wants Gregg Popovich, as they should. If they don't get him, though, they'd be well served to give Erik Spoelstra a good, hard look.