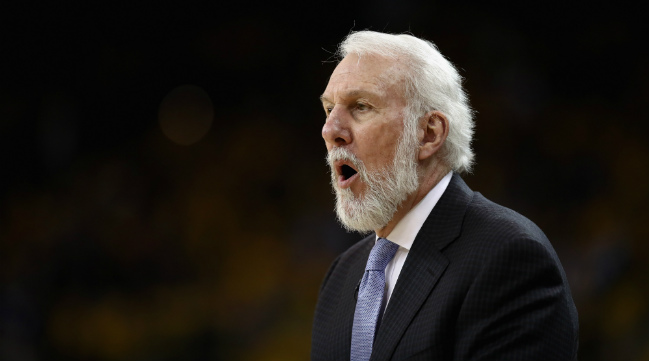 The Kawhi Leonard situation in San Antonio seems like it's pretty cut and dry at this point. After sitting on the sidelines for most of the year amid a quad injury and some tension with the organization, Leonard wants the Spurs to trade him. He even reportedly has a list of preferred trade destinations, with Los Angeles (namely the Lakers) atop the list.
But perhaps Gregg Popovich isn't quite ready to give up on the relationship between the two sides. According to Shams Charania of Yahoo Sports, Popovich and Leonard had a meeting in California on Tuesday.
David Aldridge of NBA.com and Chris Haynes of ESPN confirmed that they did indeed meet with one another, with Haynes saying Leonard was not alone as he sat down with Popovich.

As Ramona Shelburne and Adrian Wojnarowski of ESPN wrote, Leonard has been hesitant to actually sit down with Popovich.
Leonard had told confidants that he did not want to sit down with Popovich and has been purposely difficult for the Spurs to reach recently. Among the issues, Leonard is angry over what he believes was the Spurs' mishandling of a quad injury, and remains irate with public comments out of teammate Tony Parker and Popovich that he felt were not supportive of him, league sources said.
The exact nature of this meeting is unknown. Maybe this is Popovich throwing up a hail mary and hoping that Leonard changes course, or perhaps it will be San Antonio's longtime coach letting Leonard know that the organization will indeed shop him in the coming days. Popovich was able to work things out with his last star to want out of San Antonio, as LaMarcus Aldridge wanted a trade last season before eventually changing course and having an All-Star campaign in 2017-18.
Regardless, everything that has happened in this saga has seemingly been an experiment in the absurd. If anything, this is just the latest chapter in arguably the strangest story in the NBA this year.