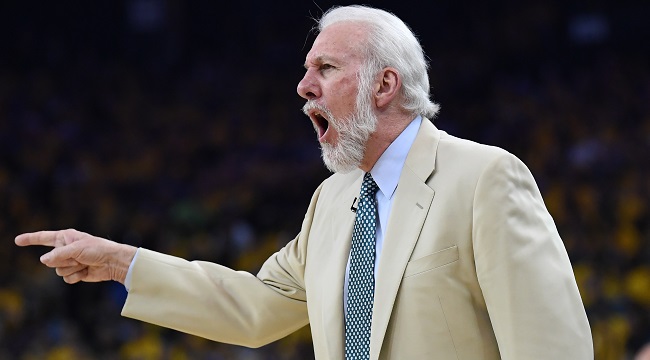 Game 2 went sideways with haste for the San Antonio Spurs and, with that, the team is in a very difficult position moving forward in the Western Conference Finals. Obviously, there was a clear and reasonable excuse for San Antonio in the absence of Kawhi Leonard, but Spurs head coach Gregg Popovich was not pleased with his team's performance against the Golden State Warriors.
During his post-game availability, Popovich was asked about the performance of his best available player, big man LaMarcus Aldridge, and he responded in direct and pointed fashion.
Popovich's thoughts included the fact that Aldridge "can't be timid" and he was critical to the point of surprise.
"LaMarcus has to score for us. He can't be timid. He turned down shots in the first quarter. He can't do it. You've got to score. Scoring has to come from someplace. I think he's got a major responsibility in Game 3 to come out and get something done, whether it's for himself or his teammates … He's got to do it. No doubt about it."
Later, Aldridge was prompted on his play in Game 2 and Michael C. Wright of ESPN brings word from the former All-Star.
"I watched the end of last game, and I saw how they were doubling and they were trying to crowd me. So I thought I would come out and try to move the ball. But I ended up taking myself out of rhythm and out of the flow of the game. But I'll be better. I just wanted to try to take advantage of the digging on me and doubling in the baseline and doubling from the middle too. At times there were three guys there. But I took myself out of it. It won't happen again."
Aldridge finished the game with only eight points on 4 of 11 shooting and, despite a prolific statistical showing in Game 1, he drew criticism for shrinking at times during the second half. The veteran big man certainly took blame in indicating he'll "be better" in Game 3 and beyond but the big takeaway is that Popovich was willing to directly prod one of his own in a public forum in a way that he is not known for doing.
The San Antonio Spurs might be dead in the water given the 2-0 deficit and looming health concerns for the team's best player. Still, it seems pretty clear that they will be properly motivated to put forth improved effort the next time the two teams take the floor in this series.