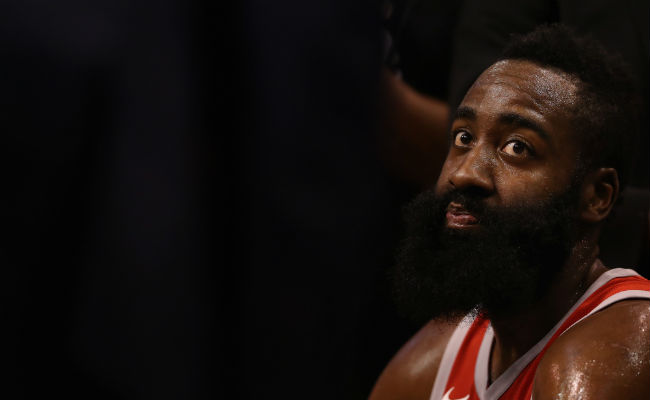 Every once in a while, an NBA team gets stunned in just about the most heartbreaking way that you can imagine. That happened on Thursday night to the Houston Rockets, which looked like it was going to snap its three-game losing streak when it went to Boston and took on the Celtics.
The reason this hurt so much was that it did not look like that was going to be the case for about 2.5 quarters. The Rockets started the game by blitzing Boston, starting things off with a 12-0 run in the first three minutes of action. Things were so bad that, when the two teams went to halftime, Houston held a 62-38 lead.
It looked like Mike D'Antoni's squad, which is dealing with injuries to Chris Paul and Clint Capela, was going to waltz to a win. Seeing as how they led by as many as 26 points in the third quarter, no one would have faulted Boston for packing things in and coasting for the remainder of the evening.

But then the Celtics decided this wasn't going to happen, and instead, they slowly chipped away at the lead over the next few minutes. Next thing you know, the quarter was over, and Boston only trailed 78-69 while everyone on the court in white was beyond locked in.
The fourth quarter was much of the same. Boston just kept fighting, making the plays they needed to make in order to cut into Houston's lead and set the crowd ablaze, like this steal and score by Terry Rozier.
Still, it seemed like a major stretch that the Celtics would be able to come all the way back. After a pair of made free throws by James Harden, who ended the night with 34 points and 10 assists, Houston held a 98-95 lead with 11 seconds remaining.

Boston continued to fight, though, finding Jayson Tatum for a layup before Harden committed an absolutely terrible foul on an inbound pass to give the ball back to the home side. And the worst part was that he did this twice within the game's final 10 seconds.
After getting the ball back, the Celtics went to Al Horford, who tossed in a hook shot to give them their first lead of the night. But seeing as how the 99-98 lead that Boston earned at that point ended up being the final score, the first 47:57 of the game where the Celtics were not on top wasn't too big of a deal.
It's an incredible win for the Celtics, which had cooled off after a hot start to the season due to an absolutely brutal schedule in December. And as for the Rockets, well, let's just say they're probably really happy that Paul should be back in the next few games.