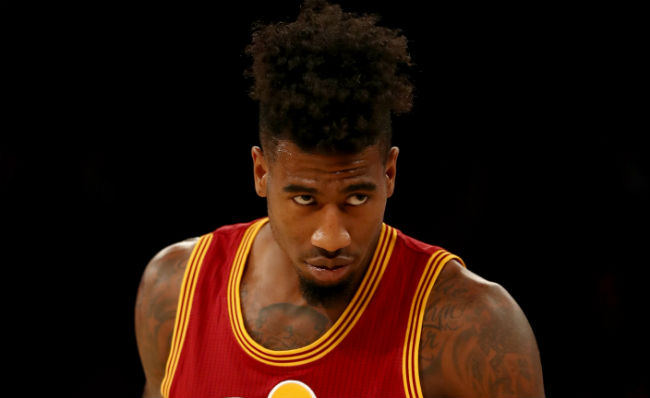 Iman Shumpert wasn't in a good place back in 2015. Then along came LeBron James and the Cleveland Cavaliers.
In an interview with HoopsHype's Alex Kennedy, Shumpert said he felt bad for his New York Knicks teammates when he was acquired by the Cavs in 2015.
I was hurt when I got traded, so it would've been cool for me if I had at least gotten to play my last games with them. I was sitting out for like a month and by the time I got traded, it was a deflating feeling, especially with that season that we were having. I felt like I didn't get a chance to help get us out of the hole, you know what I mean? (winces) I just felt bad and felt like we had dropped a bunch of games.I felt bitter that I had to leave on such a bad note. I just remember the feeling [sucked]. It was like, 'Ah, I'm hurt, we've lost a bunch of games in a row and then I'm traded.'
The bad feelings soon faded when he finally arrived in Cleveland and got healthy. In fact, Shump said the trade felt like he was "grabbed out of hell" when he got sent to the Cavs.
Then, shortly after we walk in and we get to playing with the Cavs, we go on a long winning streak. I kept thinking back to my old teammates like, 'Damn, I was hurt and we were losing. Now I come here and I'm playing well and the energy is great.' I just felt like they kind of grabbed me out of hell. And every game was being showcased on TV and we're winning. It was just crazy. I was happy, but I felt bad too."
Since escaping from New York, things have gotten much better for Shumpert. He helped the Cavs make the NBA Finals in 2015 and helped them win it all the next season. Shump also showed up in a Kayne West video and got to recreate that video live.
He's an NBA champion and plays for the best team in the East. Though Shump was on the trade block this season, he didn't get moved and is gearing up for a long playoff run with Cleveland. The Knicks, meanwhile, are winning games that hurt their own tank.
Not much has changed in hell, I guess.
(via CBS Sports)