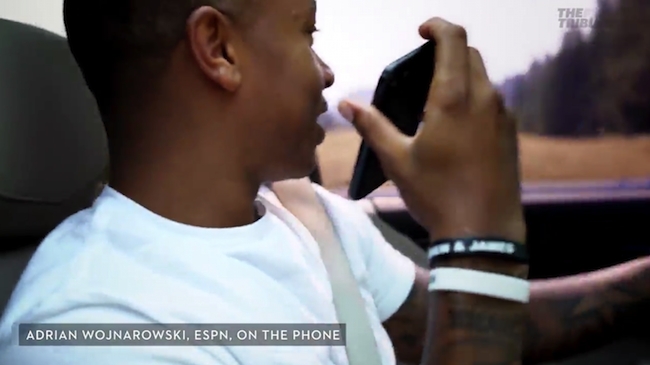 Isaiah Thomas made his Cavaliers debut on Jan. 2, ending his more than six month absence from the basketball court due to a lingering hip injury.
When Thomas was traded from Boston to Cleveland for Kyrie Irving, his hip injury caused a bit of a delay in the trade going through as Cleveland pushed for more in return from the Celtics. Eventually, the deal went through and there was a bit of damage control needed from Thomas and his camp regarding his health status, since he was pushing towards a max deal in free agency in 2018 and his value was suddenly in question.
We'll have to wait and see what Thomas' long-term health outlook is, but early returns from his first two games back have been positive — the dynamic guard has scored 17 and 19 points in limited playing time in a pair of Cavaliers wins.

Thomas' video series with The Player's Tribune, The Book of Isaiah, has offered a revealing look into each step of his journey from Boston to Cleveland, including his immediate reaction to Danny Ainge's phone call. In the latest episode, we see how Thomas looked to control the narrative around his injury, as we got the chance to listen in on a conversation between himself and ESPN's Adrian Wojnarowski.
The two discuss his hip injury and the frustration about all of this coming out a year before he hits free agency. The full episode is below, with the specific clip of the call pulled out, courtesy of r/NBA user IanCaesars.
It's interesting to get a behind the scenes look at how connected Woj is, as he can just call up a guy like Thomas and have this kind of conversation. The conversation in question appears to be a snippet from this interview Wojnarowski published back in August where many of the same quotes appear.
The most intriguing part of the whole clip isn't the information Thomas offers him, as that's not new, but how Woj offers some of his own thoughts on the situation, telling Thomas it wasn't "fair to you," and that he's being treated "like a ping-pong ball." For someone that's life is reporting player transactions, it's good to see that he still sees the human element of it all.
Check out our DIME podcast this week with Jim Miller, author of ESPN the book. Subscribe on iTunes.