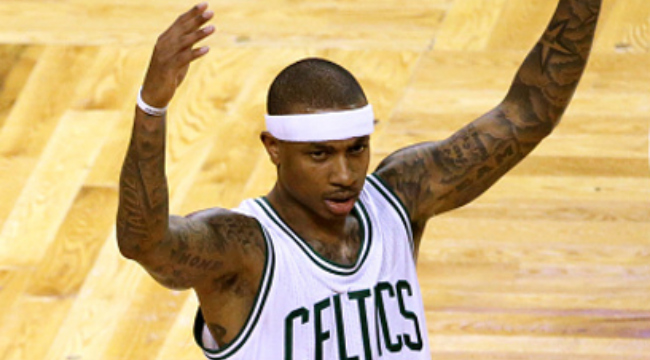 Isaiah Thomas has always been a basketball player whose hard-nosed game connects with fans. No where has that been more evident than when he was a member of the Boston Celtics. In a new video for The Players' Tribune, Thomas shared his thoughts on the city that embraced him from the moment he put on the Celtics' uniform.
Thomas, who was traded to the Cavaliers during the offseason in the deal that sent Kyrie Irving to Beantown, tweeted that it hurt to leave the city. The tweet included a video in which Thomas waxed poetic on his time in Massachusetts, and called the amount of love that he got from Celtics fans "crazy."
"Everything you hear about Boston is true," Thomas says in the video. "The fans, the city, it's an amazing city. It's a sports town. I've had the best years of my career so far in Boston. The people there, they brought me in with open arms. You would think I'd been there 10-15 years.

"You know about all the banners and you know the history, but you don't feel it unless you have a Celtics jersey on," Thomas continued.
The Cavaliers are Thomas' fourth team, and wherever he's gone, the All-NBA guard has been a popular player. Fans just like rooting for the guy. But in Thomas eyes, the strongest connection he has ever had with a fan base came when he was a member of the Celtics. While athletes always discuss how hard it is to get traded, it seems like the case of Thomas leaving Boston goes to another, more personal level.