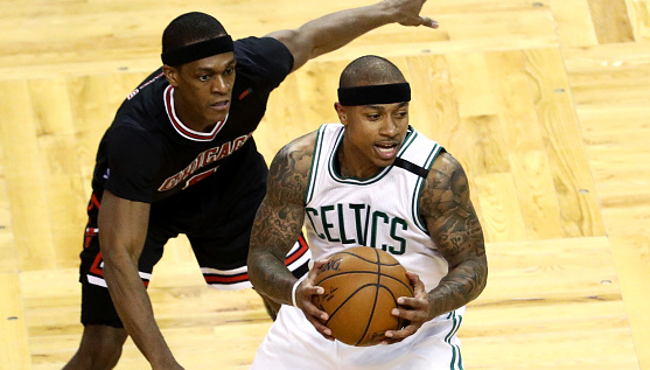 The past few days have been an emotional roller-coaster for Isaiah Thomas and the Boston Celtics. On Saturday, Thomas' family was devastated by the loss of his younger sister, Chyna, who died in a car wreck in Washington state. That was followed by the lingering question of whether the Celtics' All-Star point guard would even try to suit and play in Game 1 of their opening-round series against the Bulls on Sunday.
Thomas did, in fact, end up playing, and the love and support he received from the home crowd was truly something to behold. Because there's no rest for the weary in the postseason, the Celtics will be back on the court for Game 2 on Tuesday to try and even the series and are once again facing the question of whether their best player will be there to lead the squad.
Thomas and the Celtics, however, appear to have answered that question with a resounding yes.
It promises to be an emotionally-taxing week, as Thomas reportedly plans to fly to Tacoma for the funeral following Game 2, then back to Chicago for Game 3 on Friday. But, if all goes according to plan, he might have some support from his team along the way.
Thomas' 33-point performance in Game 1 was a special effort considering the circumstances, and it's truly incredible to see the way he's able to function after such a heartbreaking tragedy.