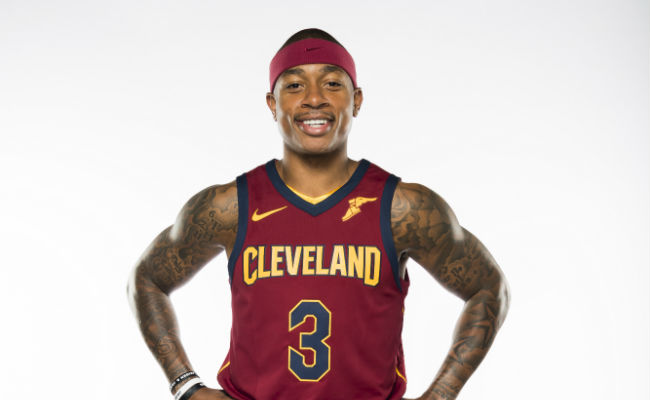 Isaiah Thomas is officially making a pit stop between Boston and Cleveland. The rehabbing point guard will hit the court for the Canton Charge before officially returning to the NBA after his hip injury.
Thomas has been out of commission since last postseason, getting shut down in a series against the Cavaliers team he now would be playing for. But before he comes all the way back to Cleveland he's going to test out his health in a scrimmage with the Charge.
It's was thought that Thomas will get a stint in the G League before he returns to the NBA anyway, and a mid-December return was thought possible as recently as last month. That timeline clearly wasn't exact, but Thomas is expected back by early January.
ESPN's Dave McMenamin reported late Tuesday that Thomas would join Charge players for a scrimmage before anything official happens, a clear sign that his time away from the court is nearing an end.
The Cavs are hoping to find a way for Thomas to scrimmage with their G League affiliate, the Canton Charge, multiple team sources told ESPN. It is unclear if Thomas will travel to Canton or a collection of Charge players will come to the Cavs' practice facility in Independence, Ohio, for the run.
Any sign that Thomas is ready for full 5-on-5 basketball is encouraging, and the fact that he hasn't had any real setbacks here means that Thomas and his medical team was right in letting rest take care of his hip issues. The Cavaliers getting a healthy Thomas into the rotation would be a huge boost around the season's midpoint, especially for a team that's been hot without him. Believe it or not, even after a shaky start, it's entirely possible that things work out for the Cavs this season.