It was supposed to be a Dubs win, and the ascension of Stephen Curry back into the forefront of MVP talk. But his old practice foe, Jarrett Jack, had other plans. Despite Curry claiming he defended Jack as perfectly as he was able and even changed his shot a bit, the former Warriors backup point guard handed the Nets a 110-108 lead with 1.1 seconds left at Barclays Center.
Curry fought over two Brook Lopez screens to challenge Jack at the point of his shot, but the former Warriors guard was just too locked in.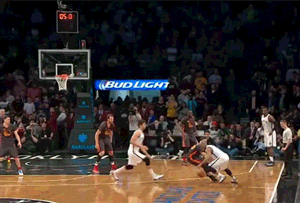 "I played the best defense I could on that possession — contested it and made him adjust just a little bit," Steph said after the game. "He still knocked it down. … It was their night."
The bucket ended a solid fourth quarter for Jack (he knocked down three of his four field goals), but nothing compared to Curry's 18 fourth-quarter points. Still, the Nets got the win and handed the Dubs just their 12th loss of the year, dropping them a half game behind the Hawks for the best record in the NBA.
Jack finished with nine points and five dimes in 27 minutes of action.