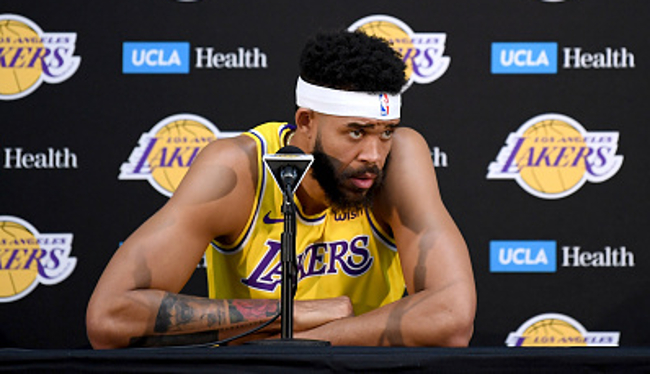 Almost a decade ago now, the NBA entered its next evolutionary phase. What emerged from that chrysalis is the game we all know and love today: a faster, sleeker, more artful version of basketball, one that mostly traded in the grinding brute force of the past in favor of grace, fluidity, and highly-optimized scoring.
They were some casualties along the way, of course, the main ones being any offense that still featured conventional post players or the entire concept of a point guard who can't shoot. The league has moved more and more toward positionless basketball, which in essence simply demands more versatility from its players. That's not a bad thing.
The transition hasn't been so easy for some, particularly those who once relied primarily on their massive size and athleticism. Lakers center JaVale McGee freely admits that he is one such player. McGee has quite a few thoughts on the topic of how big men have evolved, which ranged from conspiracy theories to an exasperated acknowledgement that he had to alter his game if he wanted to stay in the league.

Via Dave McMenamin of ESPN:
"It's extremely hard because it seems like they don't want us here," McGee said after Wednesday's practice. "They're trying to get us out of here. The prime example is them taking us off the All-Star ballot. They literally took the whole position off the All-Star ballot. So just think about that."

***

"Before, it was easier just because everybody was doing the stay-back-and-block-the-shot-at-the rim [defense]," McGee said. "So I was just, 'Cool, I'll just use my athleticism.'

"It's a lot more mindful now. I definitely have to focus more and think more on what exactly I'm doing, rather than just use my athleticism."
McGee proved during his two seasons in Golden State that he can be a valuable rotation player under the right circumstances. And he should get even more opportunities this year playing alongside LeBron in Los Angeles.
The 11-year veteran has come a long way since his early days with the Wizards when he was a fixture on 'Shaqtin' a Fool.' He nearly found himself out of the NBA entirely at one point a few years back, but to his credit, he did precisely what he needed to do in order to tweak his game to fit today's model. He's living proof that there's still a place for big men like himself as long as they are flexible.
(ESPN)