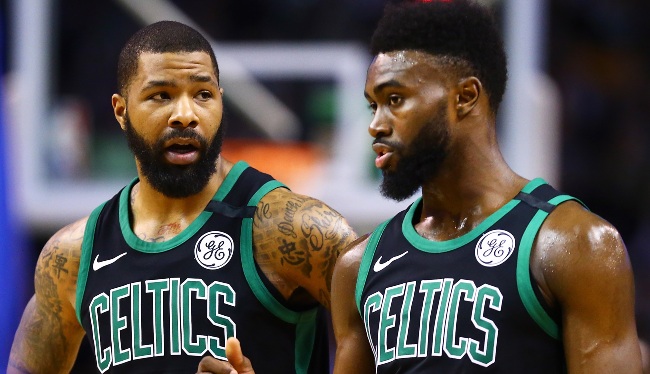 Very little went right for the Boston Celtics on Thursday evening. After four consecutive victories, Kyrie Irving and company entered a nationally televised showcase against the Miami Heat riding high but, after 48 minutes of basketball, the Celtics exited with a 16-point defeat and the negative vibes of the heat weren't only centered on the final result.
A video surfaced after the contest that seemed to show Jaylen Brown and Marcus Morris in something of an altercation during an in-game huddle.

Without further context, it is aggressive to speculate as to what may have inspired this particular back-and-forth but Morris threw an apparent shove in Brown's direction and the two didn't seem to be pleased. Morris, who has been playing great basketball during Boston's resurgence, finished the game with 17 points and six rebounds. Brown, who has scuffled throughout the season, played only 14 minutes and scored two points on 1-for-5 shooting.
It will be interesting to see how all sides respond to the fact that this happened and, frankly, to the reality that video surfaced in this case. For the most part, the Celtics have looked the part of a contender in recent days but their play left plenty to be desired on this night and this adds a bit of insult to injury.