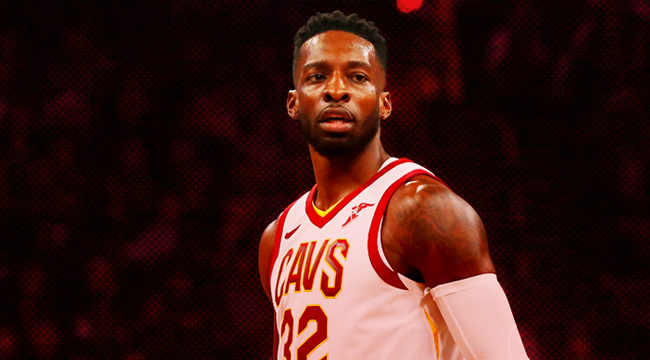 Jeff Green's career has been filled with ups and downs, as the now 31-year-old veteran has been on six different franchises since entering the league in 2008 with the Sonics. Green was supposed to be part of the Sonics (and then the Thunder's) young core with Kevin Durant, Russell Westbrook, and James Harden. In 2011, the Thunder decided to shake things up and sent Green off to Boston in exchange for Kendrick Perkins.
Green finished the season with the Celtics, and just prior to the start of the shortened lockout season of 2011-12, a physical detected an aortic aneurysm that required Green to have heart surgery in January 2012 and miss the entire season. That moment, almost six years ago exactly, shaped Green's future and changed his outlook on life and his career.
After two more years in Boston and seasons in Memphis, L.A. (with the Clippers), and Orlando, Green has found himself in Cleveland, revitalizing his career in the company of veterans. It's fitting that Cleveland is the place where Green has found a career rejuvenation, averaging 10.8 points and 3.6 rebounds per game on a career-best 54.5 eFG%, because Cleveland was where he had his heart surgery that changed his life.
Green recently took a trip to the Transplant House of Cleveland to visit with patients and their families ahead of the holidays, bringing them some Cavs gear that he signed while visiting. Green spoke with Dime Magazine this week about that visit and what it means to him to talk with patients going through similar things as he did, as well as this year's Cavs team, why he's been so comfortable in Cleveland, the surging second unit, what he's learned from LeBron James, his sneaker collection and more.


You recently visited The Transplant House of Cleveland. What was that experience like, getting to visit with the patients and talking to them?
The way they treat the patients, the family. They give them a comfortable living space for their time in Cleveland. It's something that I can relate to with my stay that I had when I was in Cleveland. I think it's great what they do for the patients. They give them the comfort of a living area instead of a hotel. In this living space that they give, they provide, it makes them feel at home. That can be a big part of their recovery process, or waiting time, as far as feeling comfortable. So, I think its great what The Transplant House does by providing them with a place to live for the time being.
When you go, and you visit with them, obviously, being able to relate with your own experience, what do you take away from that? And what do you hope to offer, in terms of any kind of inspiration to the patients or is it just nice, when you're in that situation, to have somebody to talk to that knows some of the things?
For me I think it's all about having an opportunity to talk, to communicate with the people who are there. Hearing their stories, and to let them hear my story that I went through, I think that's big. Because it allows them to, really, connect with someone other than think about their own situation. Knowing that they're not in it alone, for me, is important and to let them know that I'm there for them. This is not something I'm just doing off the whim, it's something that I really … really can connect with them because I went through it. Its something that I can sit down and talk to them about. We can share stories. For myself, what I went through, I know that helps a lot. If that's what I can do for them, to help them get through their situation, that's what I'm going to do. I feel like the communication is something that's big. You have to deal with a transplant and you're waiting. Having the opportunity to, just, talk and share your story, I think its amazing.
You're now approaching the sixth anniversary of your surgery. When you look back on that, how did your outlook on your life, your career, all that, change after surgery? Being six years later, what are the thoughts that go through your mind when you think back to that time?
It definitely helped me put my priorities in order. A different order. I think that was the biggest thing for me. Not taking each day for granted. Not taking each moment for granted. Just living in the moment. Having joy in my life and the things that I do. Because basketball was, for the year, taken away from me, quickly. I didn't know what was next up, as far as recovery, as far as life in general. It made me respect the moment itself a lot more. That's something that I had to, really, sit back and think about. Are my priorities in order? Am I focusing on the day itself and not thinking too much in the future? Because when you procrastinate so much, and you try and put things off, and in one second, that moment that you put off, now, that moment is no longer there. You know? You take everything for granted. I try to leave each day to the fullest and have fun and smile and not stress about that little things. Just live life.
Is that a message that you try to impart on young guys…
Yes.
Pro athletes when they're young, when you're 18, 19, 20 years old, everybody thinks they're going to have the 10, 15, 20 year career. How important is it to give them that kind of perspective?
That's definitely a message that I try to get through to young guys that I come in contact with. Enjoy the process that you're in. For some, it's different. Because, you look at a guy like Lonzo Ball with the Lakers, who's playing right away. His time may be different than the guy who's coming in to a veteran team and he has to sit back and wait. Each sequence, you still have to enjoy the process. That's what I try to let them find out. You've got to enjoy the process, whatever your process is. Not worrying about what you can't control. I try to preach that to all rookies that I come across.
For me, I was the same way. I was … Everybody says, "It goes quick." By my fifth year, I'm having heart surgery, not knowing if I'm going to play my sixth year. I'm blessed enough now, I'm at year 10, to still be playing but I didn't even know I would get this far. You've got to enjoy the process. You've got to enjoy every step of your career because you never know when that day might be your last.
As a team, right now, y'all seem to be enjoying the process of this season more than you did early on. Obviously, the success is coming, winning 18 of the last 20. What would you say is the biggest difference from those first couple weeks to now, that's really seen the team undergo this change and be playing so much better?
I think we're having a lot more fun. Were playing with a lot more joy. We have so many new faces in the locker room. Everybody, media, everybody wanted the process of our team to happen quick, for us to come out and win 30 straight games and blow everybody out. But, it didn't happen that way. We knew what we were up against, as far as the transition of the guys. In the beginning, I think, we were thinking, rather than just playing. Now, we're just playing. We're having fun with it and these are the results of winning 18 of the last 20. Once we changed our mindset, everything has been great. We're just having fun with that process now and taking it one day at a time and not getting too stressed out about when things don't go our way.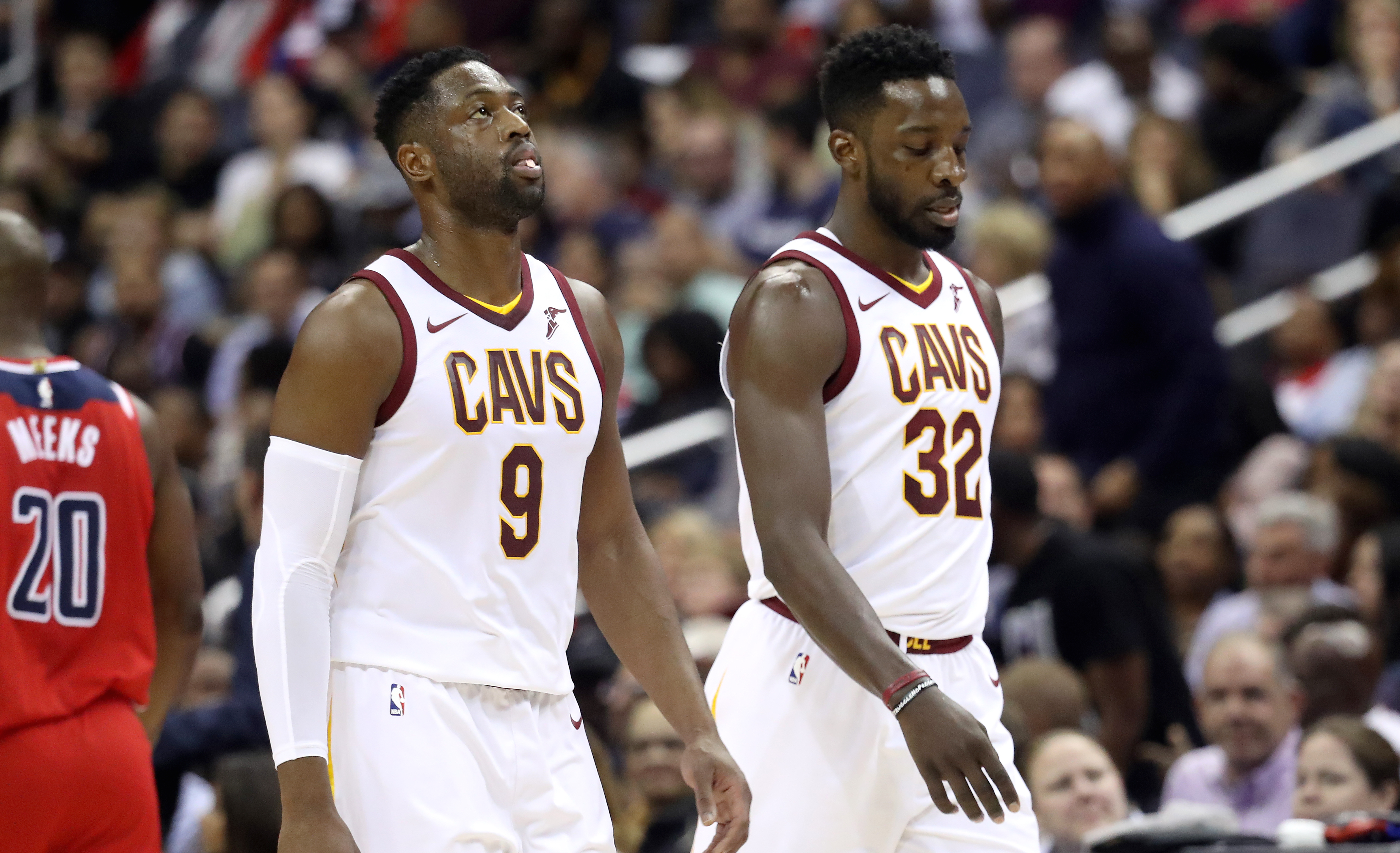 For you personally, you're having a really excellent season, efficiency-wise, on the offensive end and, just, raw production. When you look at this situation, compared to Orlando or somewhere you were before, what's different? What would you point to as the reason why you're seeing the success you're having this season with the Cavs?
Well, first, I don't like to compare this year and last year. Things happen for a reason. I was in a situation last year. And, the season played out how it played out. I'm not mad about it. Its just a different team. That's all it is. I'm with a bunch of veteran guys who know how to play, a veteran … a coach who's been around the league for more than 20 years, probably. Its just the situations different and everything is on a different plate for me.
Things are working out this year. Not saying that I had a bad year last year. It just wasn't as efficient as it is now. I'm thankful for what I went through last year. But, I don't like to dwell on it too much because I put it in the past. It's something that I try not to think about. But, this year has been great for me. I just got a good team to work at it. When you think about it, it feels like well, we're half way through the season, but we're really only one third of the season through. I just got to continue to get better, because there is another level that I have to get to to continue this good play.
With the bench unit, in particular, when Dwayne Wade came back and started running point for the second unit, y'all seemed to really click. What is it about that unit, with you, and Wade, and Korver, and Frye, that seems to really work? In whatever combination y'all are in, y'all have some of the highest net ratings on the team, whenever y'all are on the floor.
It starts with, everybody is unselfish. We have a bunch of unselfish guys who are willing to play within the team and play through each other. We have guys who can score, myself, D-Wade, Kyle, and Chan. We all can score in many different ways. If, one night, D-Wade got it, we're going to find ways to continue to get him going. If Kyle has it going, we're going to do the same for him. That's how we have been playing. We've been playing unselfish basketball and having fun with it. We play together. Especially on the defensive end. We're there for each other. We're talking amongst one another to make sure we have each other's back. That's what it's all about and the game is fun that way. That's how we've been playing. Just trying to have fun and play for each other.
How important is it when you play for somebody like Ty Lue who knows where you liked to be and makes you comfortable on the floor, how important is that in playing with veteran guys that are able to understand that? How important is that to cultivating these successful rotations where it doesn't seem to matter, quite as much, who you're on the floor with. Everybody seems to understand, "Okay, this is what Jeff does. This is what Kyle does," and being able to fit you, or your style, in with everybody else. How important is that to an overall team success?
I think when you're on a veteran team, and you've got guys who have been through the league, they've been through the ups and downs of the league, you know what it takes to play good basketball. You have guys who are already established. You have guys who already have a name for themselves so the game becomes easier. You don't have to worry about, "What do I have to do for myself to make this team better?" It's about, "What do I have to do for this team to make us better?" There's a difference. That's how we are. We don't care who's getting it.
We know LeBron is LeBron. But, even LeBron doesn't care if Kyle is making five three's a game, if he gets 25. It's about doing whatever it takes to make sure the Cavs win the game. That's what it's been about. It makes the game easier. It makes the game fun. You're not thinking about your own points, it's just about the team. It's team first. That's how it is when you're on a veteran team. It's not about guys establishing who they are because we already know who guys are. We've been through the league. We've tested the waters. We've made a name for ourselves, in many different ways, and that makes the game easier when you're trying to put guys together and go out there, and just play.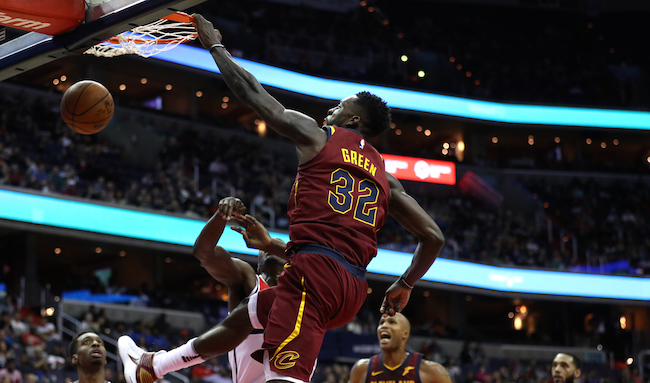 When you have a superstar like LeBron on the team, how unique is he, as a superstar in the league? Because we always hear from guys who … they, kind of, rave about him as a teammate, that unselfishness but also the leadership. What have you seen in your time with LeBron that's impressed you?
My time has been amazing with him. His daily work ethic is amazing. You always wonder, "Man, how does he get to the level he's at?" And now, I'm seeing first hand. He takes care of his body, eats right, he works hard, hard as hell each day on perfecting his craft. And you see why he's at the level he's at. It's amazing to watch. I try to follow suit and do what he does. I think that's been a great thing about my year, is having him alongside to follow, to help guide, and listen to his knowledge of the game. It's amazing. It's truly been great to play with him, for him to help out my career, to help my path, and what I'm trying to do. It's been great to learn from a guy like LeBron because he truly is one of the best, and will go down as one of the best to have played this game, when it's all said and done.
You mentioned how much joy the team's playing with. Who are the low-key, funny guys in the locker room that, maybe, some people wouldn't expect to be cracking jokes?
The low-key funny guys? You have a lot. We have a bunch of characters on the team. We have a lot of guys with different personalities, which, all are funny. To me, the first one that come to mind is Channing Frye. He's definitely, probably, one of the funniest, who people try not to laugh at but they can't help it. You have Kevin Love, who, I think, is very funny. LeBron, D-Wade … everybody, in their own right, is funny. J.R., Tristan … We have a bunch of guys who are hilarious. I think that's why we're so well connected because we get along. We don't take anything too serious. It's just a fun time when we're around each other.
Have you been to a LeBron wine night yet? Have you gotten over there to have some wine with him because I know he's gotten really into that and has a crazy wine selection?
We have. Every road trip we have dinner. We have dinner, he brings his own wine sometimes, or he knows wine very well, and he's picking it out. It's been great. I'm not a big wine guy, but I drink it. [laughs] I'll have a glass or two. The wine is great. It's great times when you got, literally, the whole team at each dinner, every time. And we're just sitting back and drinking wine, watching a game, and just relaxing. That's great times. We have fun with that.
I know you're a big shoe guy. You're signed with Jordan. What are your favorite shoes in the closet right now, that you've got?
My favorite shoes, right now? Any Jordan 3's that's out. The True Blues, the Cement 3's are one of my favorites. The KAWS 4's that just came out, the black ones are amazing. The material on those are amazing. Any Jordan shoe that comes out is amazing, to me. That's just not a biased answer. I'm truly a big Jordan fan and I'm very honored to be sponsored by them. It's been great.
Do you remember the first PE they gave you or special retro they made for you, specifically, that you were really excited about?
Yeah, it was, probably, two years ago. He holds a retreat for his athletes in the summer time. That one summer, he put on a contest. Each player got a … well, the winning team got each retro made in their own color way. Everybody else got one … they got to pick. The losers got to pick one retro, their favorite one, to have their own color way. I got to pick the Jordan 17, I believe. I picked … I got it in all gold. I got it in all gold and black. That was … one those came in the mail, I was taken away. Those are, probably, one pair of my … I've worn them once, and I think that'll be the last time I wear them. I wore them on a date night with my wife.
Nice.
That was something that will always sit in my closet as great memory, so I'm really happy about those.
Do you remember what your first pair of Jordans was?
My first pair of Jordans was probably the Cement 3's. I was like a young baby. It was the Cement 3's. I have a picture with my sister. We took one of those brother sister pictures. I have them on with this sweatsuit. I don't know what the brand of the sweatsuit is but they definitely were the Jordans. I've always been a Jordan fan since a long time coming.